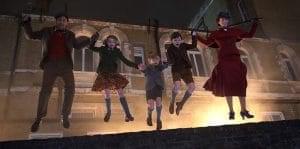 Approaching a classic is like treading on thin ice, is it really worth the attempt? Whether you're making a sequel, reboot, tinkering with orientations and ethnicities or simply colorizing, it's not always the right move to make. At best, you've recaptured the magic of the original, and at worst, you clearly went for the money grab.
In Rob Marshall's Mary Poppins Returns, he attempts to recapture the magic of the original Mary Poppins, while the Walt Disney Company is apparently going for the money grab. Does it work? Let's just say Mary Poppins Returns falls a single step short, and that step is a big one.
Mary Poppins Returns is set during England's Great Slump, twenty years from the first film. Michael Banks (Ben Whishaw) is struggling to keep his life together in his childhood home with his three children Anabel (Pixie Davies), John (Nathaniel Selah), and Georgie (Joel Dawson). Michael's life changed for the worse after the death of his wife. He was forced to give up the artist's life and now works as a teller at Fidelity Fiduciary Bank, where his father worked in the first film. Fortunately, there to help are the Bank's housekeeper, Ellen (Julie Walters) and Michael's sister Jane (Emily Mortimer), who took up her mother's mantle as a low-level union organizer.
In need of quick cash, Michael took a loan out on the home and immediately began to fall behind on payments. The bank he works for is about to repossess the family home. Desperate, Michael pleads with the bank's president, William Weatherall Wilkins (Colin Firth) to extend the loan. Unable to help, but rooting for Michael, he promises to keep the bank open until midnight Friday to receive the loan's balance.
Not having any money, Michael remembers that he has ownership shares of the bank since his father was a senior executive. The task at hand is to go through every paper in the house in search of the certificate of shares. Stressed beyond belief, Michael is at wit's end, and this is where Mary Poppins (Emily Blunt) appears. Mary arrives by Georgie's magical kite, and Michael agrees to allow the ageless Poppins to be the children's nanny.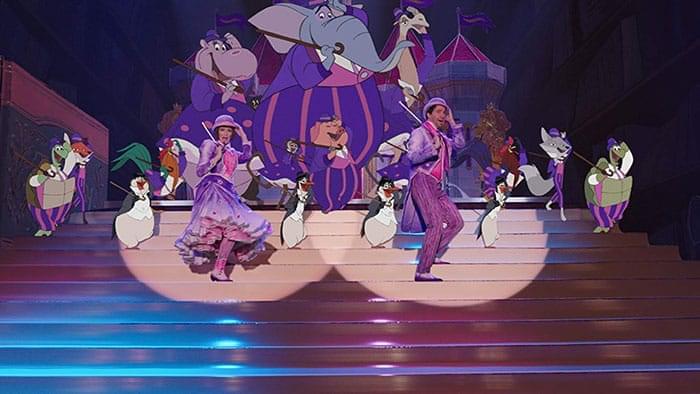 "Michael's life changed for the worse after the death of his wife. He was forced to give up the artist's life…"
Mary resumes her duties of teaching the children paradoxical life lessons. They go under the sea learning the importance of baths. Pop into a porcelain bowl for a fun carriage ride and a song-and-dance show. They team up with local Leery (Lamplighter) Jack (Lin-Manuel Miranda) for a little Poppins interpretation and a dance number or two.
Later that day, the gang gets into trouble while visiting Michael at his bank job. "Slipping" past Mary, the kids sneak off to ask Wilkins to extend the loan but instead overhear his sinister plan to prevent Michael from ever making the payment on time.
So, let's make this official. How does Mary Poppins Returns compare to the original? Because quite frankly, this is the rare film that rightly must stand alongside Walt Disney's original classic. It's "practically, perfect" in all but one way. Emily Blunt is perfect casting as Mary Poppins. She not only manages to become Poppins the moment she first appears, but she also makes the titular character her own and defiantly dares you to make the comparison with Julie Andrews.
If there is to be an unfair comparison, Lin-Manuel Miranda is no Dick Van D**e (who makes a film-stealing appearance). While the world loves Miranda, he has big shoes to fill, and those shoes are just too big. That said, Miranda does come off as lovable, child-like, and wise to all things Poppins. The only thing he shares with Van D**e is his horrible English accent.
To me, alongside the original's story, acting, and music is Peter Ellenshaw's art direction. His beautiful matte paintings meshed together art and real life. You could hang his London cityscape in your living room. While never quite reaching the masterful quality of Ellenshaw, Mary Poppins Returns' art director Niall Moroney comes pretty damn close. Close enough to never let it bother you.
Marc Shaiman's score rivals the original Sherman Brother's score. Rob Marshall wins again with handling the film's direction and capturing the fun in its many dance numbers. The overall story of Michael trying to reclaim his family after a tragic loss is just as heartwarming as the first.
"Rob Marshall wins again with handling the film's direction and capturing the fun in its many dance numbers…"
Here's where Mary Poppins Returns fails and fails hard. If you saw the original Mary Poppins in the movie theater, you'll understand this statement. What you did while walking out of the theater after the credits rolled, you will not do at the end of Mary Poppins Returns. Guessed it? That's right. You won't be humming any of the songs from the film (maybe one). Every song in Mary Poppins was a winner, beloved and memorable. Not so much Mary Poppins Returns.
What went wrong? Shaiman's music and melody are excellent. The lyrics are the problem. It's wordy as hell, with exposition up the whazoo. The Sherman Brothers were masters of keeping their songs simple and saying a lot in just a few words. Robert and Richard Sherman probably used a third of the total words in their songs compared to Marc Shaiman. This is a systemic problem in Broadway today. Songs convey deep meaning and emotion as poetry and music work together. Instead, Mary Poppins Returns sing-talks the entire time. It's the difference between showing you how I feel with notes and lyrics compared to telling you about these feelings in an endless stream of consciousness. Add a British accent, and lyrics are sometimes incomprehensible. I said to myself on several occasions, "when will this song end so we can get back to the story."
Rightly or wrongly, Mary Poppins Returns has a lot to live up to. The original was helmed by Walt Disney himself, and he assembled a brilliant team of masterful artisan to win Best Picture, Director, Actress, Screenplay, Song, etc. Mary Poppins Returns comes pretty close. If they had gotten the music right, it could have stood by the original classic.
Mary Poppins Returns (2018) Directed by Rob Marshall. Written by David Magee. Starring Emily Blunt, Lin-Manuel Mirada, Ben Whishaw, Emily Mortimer, Pixie Davies, Nathanael Saleh, Joel Dawson, Dick Van D**e.
6.5 out of 10 stars