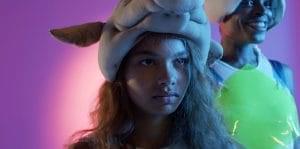 Those seeking conventionality and a three-act structure need not apply to director Josephine Decker's Madeline's Madeline, a new piece of experimental cinema that will elicit a gamut of emotions.
From the beginning, Decker lets us know we are in for something different. Madeline (Helena Howard) is walking around her house purring like a cat, while her mother (Miranda July) plays along. Madeline is part of a theater group, spending most of her free time there performing acting exercises under the guidance of the group's chilly, almost cult-like instructor, Evangeline (Molly Parker). Evangeline's newest assignment for the actors allows Madeline to dive in, almost as if she is seeking to escape the world around her.
This is the simplest take on Madeline's Madeline, which almost defies a traditional plot summary.
"…spending most of her free time performing acting exercises under the guidance the chilly, almost cult-like instructor…"
Over the course of 93 minutes, Madeline's Madeline simultaneously feels like nothing happens and everything happens. It's a strange, sometimes frustrating dichotomy that ultimately gives the film its bizarre edge. Earlier this year, Decker was the director and subject of the documentary Flames, which charted her romantic relationship over the course of five years. She is no stranger to taking chances on experimental works, even at the risk of alienating an audience.
Like a thunderous bolt of lightning, newcomer Howard is captivating as the eponymous Madeline. There is a scene towards the end that requires the young actress to immerse herself entirely at the moment and give a performance of someone laying their heart out while acting in front of her fellow actors. It's intensely emotional and should be used as Howard's calling card for future work.
Madeline's Madeline requires patience, which sometimes wore thin for me. On the other hand, the movie is intoxicating, especially in its lush cinematography by Ashley Connor, and can't be written off as boring. It's hard to sort my feelings out in a few paragraphs but I'll certainly be thinking about this one for some time. That's worth something.
Madeline's Madeline (2018). Directed by Josephine Decker. Written by Josephine Decker and Donna di Novelli. Starring Helena Howard, Miranda July, and Molly Parker.
6 out of 10