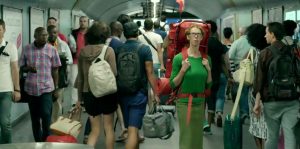 Admittedly I'm not that big of a cinephile. The synopsis for Lost In Paris uses the phrase "filmed in Dominique Abel and Fiona Gordon's signature whimsical style…" Wasn't exactly sure what that meant.  Suffice it to say, Lost In Paris is a whimsical tale of a woman "lost in Paris."
The film opens somewhere in the bitter cold Canadian Arctic, a young girl, Fiona, says farewell to her beloved Aunt Martha as she journeys to Paris, France. In Fiona's heart, she wants to one day visit her aunt across the pond.
From the opening moment, the "whimsical" style of Abel and Gordon feels like a live-action version of Wallace & Gromit. Fiona's wintery village is surreal with its Department 56-style homes and its relentless sunny snow storms ala Rankin Bass. The film's color palette uses bright pastel colors gives a sense of fun and play throughout the Paris locations.
"…she grabs her camping gear and backpack and heads to Paris."
Decades later, an adult Fiona (Fiona Gordon) works her life away in the small village bookstore. She receives a mysterious letter from Aunt Martha (Emmanuelle Riva) saying that she's in danger and needs help. Like Buddy the Elf, she grabs her camping gear and backpack and heads to Paris.
Lost In Paris is essentially a fish out of water story for Fiona. She knows no one in the city except her missing Aunt Martha. The fact that she is from Canada and speaks a little French means the citizens are relatively nice to her. She scours the city looking for her aunt, who is in hiding because the old folks home police (if that's a thing).
The rest of the film is Fiona's entanglements with a cast of wacky characters including her counterpart Dom (Dominique Abel). Dom is a vagrant (for the lack of a better word). Living on the street and in the spirit of Charlie Chaplin, Dom maintains a "regular" life utilizing the open world around him. Fiona and Dom meet at a high-class French restaurant. Fiona is there thanks to a food voucher from the Canadian embassy. Dom is at the restaurant in order to get a fancy meal and then sneak out on the check.
"…dances are fun to watch with a quirky innovation reminiscent of Singin' in the Rain."
It is here that you understand what Abel and Gordon's "signature whimsical style" is. They are semi-famous dancers and quirky ones at that. The film has numerous dance pieces between Abel and Gordon as well as other cast members. The dances are fun to watch with a quirky innovation reminiscent of Singin' in the Rain. Numbers are choreographed beautifully and take advantage of their environment using unique stages like a city park bench.
Along with dance numbers, our heroes find themselves in are several wacky situations. Most notably, Dom gives Aunt Martha's eulogy, even though he just met Fiona and knows nothing about Martha.
Lost In Paris has a very specific audience in mind. Fans of dance and light-hearted wackiness will like this film. As a warning, the film does have sexually suggestive moments not suitable for young kids. If you don't take the film too seriously, you're bound to have a good time. If this kind of film doesn't appeal to you, then move on to the next.
Lost In Paris (2017) Directed by Dominique Abel and Fiona Gordon. Written by Dominique Abel. Starring Dominique Abel, Fiona Gordon, and Emmanuelle Riva.
3.5 out of 5 stars