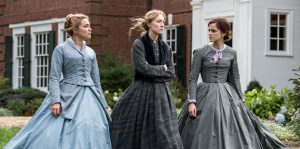 Greta Gerwig's adaptation of Little Women is based on the Louisa May Alcott novel (which I have not read) and is the fifth iteration to hit the big screen (none of which I've seen before). At the moment, I'm taking the dude's perspective as Hanna B is also reviewing it.
Little Women is about the March family consisting of mother Marmee (Laura Dern), who is raising her four daughters on her own, Meg (Emma Watson), Jo (Saoirse Ronan), Amy (Florence Pugh), and Beth (Eliza Scanlen), while father (Bob Odenkirk) is serving on the front as a Union Soldier.
While each sisters' story is told, Little Women centers on Jo and opens on her attempt to sell her story to publisher Mr. Dashwood (Tracy Letts). Here Dashwood represents the entire patriarchy as he bullies his way to buying her story at a low price and warns her next time that her female leads need to either be married by the end of the story or die. Romance and tragedy sell in 19th century America.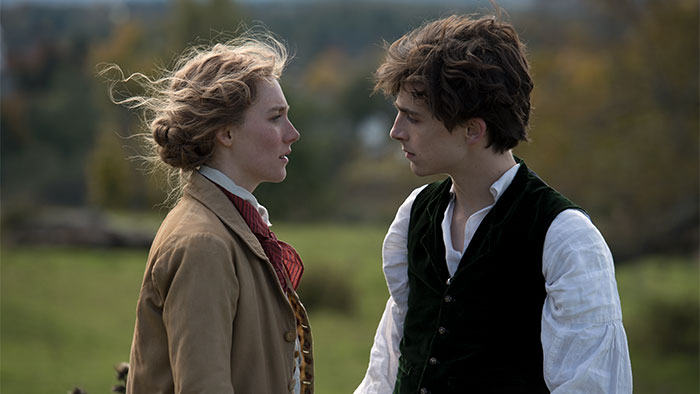 "…a tight-knit family coping with the tragedy of war and the ever-strengthening the bonds of sisterhood."
Throughout the film, Jo's sole focus is to become a writer and she cannot be distracted by anything, even love and marriage. Which brings us to her neighbor, Theodore "Laurie" Laurence (Timothée Chalamet), who lives a life of great affluence with his grandfather (Chris Cooper), but is sort of an outsider in that economic class. Jo and Laurie quickly develop great admiration for one another, but Jo keeps him at arm's length.
Meg March is married to John (James Norton) and her children but lives in near poverty on John's meager earnings. Beth is the quietest of the sisters but comes to life playing the piano, of which the closest one is next door at the Laurence home. Mr. Laurence is always near to hear her play. Last is Amy, who is beautiful (and knows it) and the only real shot for the March family to marry into money, according to Aunt March (Meryl Streep).
The film plays out by always jumping the timeline and follows several plots like the "budding" romance of Jo and Laurie, the effect Jo's break-up with Laurie has on him, a European trip with Amy and Aunt March, Amy's pursuit of a wealthy husband on said trip, Meg's embarrassment for marrying beneath her, and Jo's duty to her family when Beth's health declines.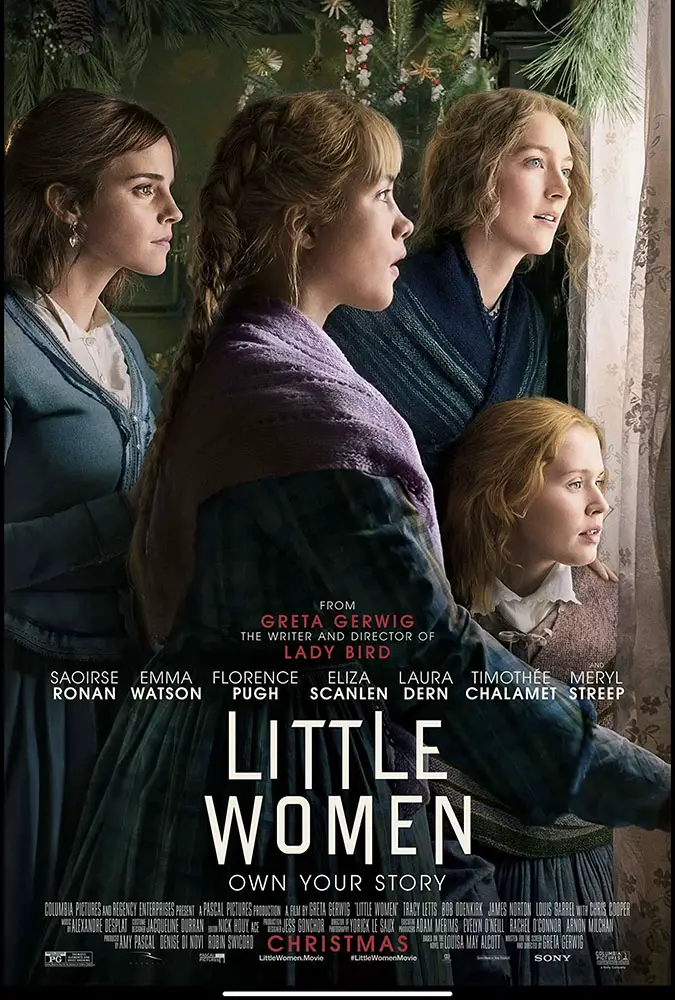 "…refuses to turn each character into a stereotype of its time."