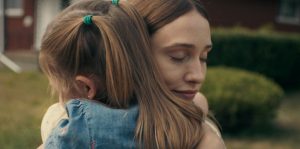 Writer/director Jesse Noah Klein's Like a House on Fire is a spare and understated affair. For the most part, it's poetic and meditative, though sometimes it comes dangerously close to becoming drab. The central dilemma is compelling and tantalizing enough in its ambiguity to warrant the minimalist character study a solid recommendation.
A heavy blanket of anxiety cloaks the proceedings from the start. Dara (Sarah Sutherland) returns home to Smalltown, USA, after abandoning her husband Dan (Jared Abrahamson) and daughter Isabel (Margaux Vaillancourt) two years ago due to psychological issues that are never really disclosed. As the story unfolds, some clues are revealed. "I loved you so much, I forgot to breathe," Dara narrates in her soliloquy to Isabel, "and then I ran out of air." Klein's decision to pull a Kramer vs. Kramer and provide his heroine with next-to-no discernible rationale for bailing on her family both pays off and becomes a minor hindrance.
On the one hand, you can't blame Dan for moving on with his life. Dara is shocked and disgusted to discover a seven-month-pregnant Therese (Dominique Provost-Chalkley) on the doorstep of her home – but is it really her home anymore? Isabel barely recognizes her mommy. Dara's own father is appalled by her behavior (it involves getting a minor drunk). Dara comes off as volatile and presumptuous, aggressively attempting to reinsert herself back into a life she's shattered.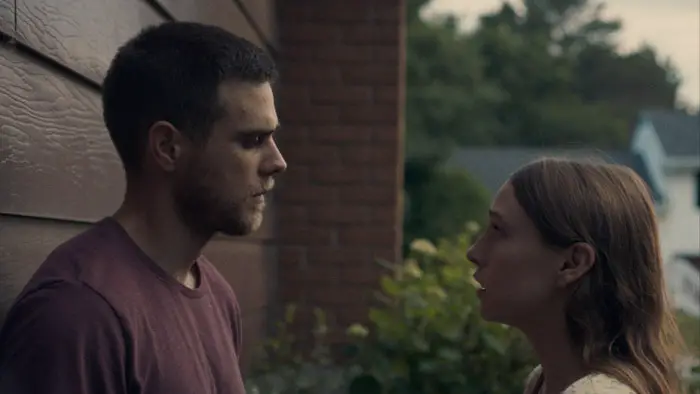 "Dara returns home to Smalltown, USA, after abandoning her husband Dan and daughter Isabel two years ago…"
On the other hand, the senselessness of her action imbues the film with a much-needed controversy. It also serves as a reminder that we only tend to see one side of an issue, and just because we don't see the other doesn't mean it doesn't exist or isn't valid. It also oddly makes Dara that much more tragic. "Just tell me who you want me to be, and I'll be her," she cries to Dan. "I'll make myself so small you won't even notice me."
Sarah Sutherland, known for her reoccurring role in HBO's Veep, knocks it out of the park in a heartbreaking lead performance. She doesn't have a lot of dialogue to play with: just reactions, musings, and wonderings. The bulk of the narrative consists of monochrome shots of the actress pondering, and it works thanks to her charisma.
There are filler moments that stretch out the slim running time. The sub-plot involving Jordan (Hubert Lenoir) taking Dara in from the cold threatens to side-track the entire feature. Like a House on Fire would have arguably functioned much more effectively as a short, with its most powerful scenes, such as Dara's confrontation towards the end, condensed into a succinct 20 minutes.
A strong lead performance and Jesse Noah Klein's assured handling of tone elevate Like a House on Fire a notch above your typical small-town indie about alienation and reconciliation. If you're looking for a low-key, character-driven, existential little drama, you and Klein's film will get on like a house on fire.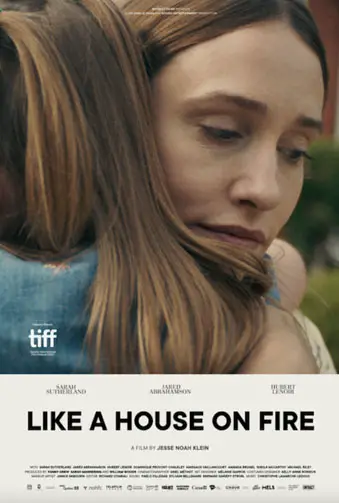 "…Sarah Sutherland...knocks it out of the park..."