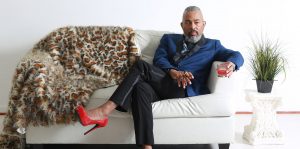 In the storied and often sordid history of the entertainment industry, there have been many unorthodox paths taken on the road to fame and stardom. Dale Guy Madison's career in film and television began on what many would have been a professional dead-end street — as an announcer/merchandise flogger on the home shopping channel QVC. Narrating his own life story in the highly entertaining short documentary Life After QVC, the effervescent and irrepressible co-director Madison charts his unlikely post-QVC rise to B-grade movie fame and fortune, as well as the rogues' gallery of rising/fading celebrities that he rubbed elbows with along the way.
Dale Madison's first film credit was as a player in John Waters' seminal cult musical Hairspray. So, it makes some sort of cosmic sense that this gay, African American son of Baltimore would ultimately find his way to a co-hosting spot at the QVC fashion channel. Narrating his own life story, Madison describes some of the humorous pitstops along the way to QVC including — in a delicious bit of irony — ad work for a straight phone party line. Once at QVC, Madison masterfully hawked wares to the world alongside co-host Mike Rowe (later famous for his Discovery Channel show Dirty Jobs) and guest presenters that included the likes of Richard Simmons and George Harrison (Zorro: The Gay Blade). As he was getting ready to launch his own African American fashion channel on the network, the bottom fell out after the QVC was sold and subsequently shuttered by Barry Diller. Someone it seems was looking out for Madison as, only a week or two later, he landed a spot as the featured drag queen in the production of To Wong Foo Thanks for Everything Julie Newmar alongside Patrick Swayze and Wesley Snipes.   
"…charts his unlikely post-QVC rise to B-grade movie fame and fortune…"
Since that brush with fame, Madison's career has continued to ebb and flow with guest spots on Homicide Life on the Streets and RuPaul's Drag Race; a self-produced one-man show, "Freeda Slave, Mark of a Diva;" roles on the TV pilot Tinsel Town written by the creator of Six Feet Under and the never completed b-grade craptacular Gangsta Mafia starring 90s true-crime mainstay Joey Buttafuoco.
As unforgiving and demoralizing as show business can often be, Madison seems to have fully "lived his truth" thanks in large part to a wicked sense of humor and an unshakable sense of self. Life After QVC is, however, rather hamstrung by poor production values and choppy editing that made it feel at times like an extended exercise in self-promotion rather than a documentary about a particularly engaging life story. By adding some additional voices to the mix — for example, RuPaul, Six Feet Under creator Alan Ball or even lesser known characters — the doc would have been stronger still. Nonetheless, it was fun to spend a half an hour with Madison and learn about his life's journey. "Fame is about the quality of people who love you," he says. By that score, it would seem that Madison is destined to have a star someday on the Hollywood Walk of Fame.
Life After QVC (2018) Directed by Dale Madison, Malik Shakur. Starring Dale Madison.
3 out of 5 stars