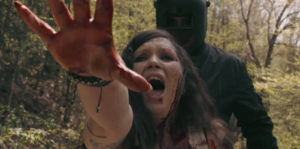 The stripped-down retro slasher Late Checkout, from director Josh Graves, peels off the needless fat and gets straight to the bloody core. The screenplay, written by Graves and Molly Souza, wears its minimalist strategy on its cut-off sleeve. Every move is made quicker as all the usual clutter has been cleared. It is like an old hot rod with parts of the chassis removed to increase the speed. It even has the most hard-boiled synopsis that also serves as the tagline: "Small town. Large body count…"
In the woods walks a killer (Matthew Hammond) who wears a welder's mask with a smile painted on it. He breaks into a quiet rental cabin and brutally murders the heavily tattooed couple there shortly after they finish making love. Several weekends later, another group of pals rents that same murder house for a liquored-up getaway. The friends include Jasmine (Kamarra Cole), Megan (Bailey Herrington), Ava (Anna Clary), Addison (Molly Souza), Matt (L.C. Holt), Kurt (Daniel John Kearney), Greg (Chaney Morrow), and Zach (Brandon Wall). They relax, put back a few drinks, have a couple of arguments, and swing the night away while being watched from the darkness. Soon the masked killer starts picking the partiers off one by one with an array of murder weapons. Everyone continues to get wasted until suddenly they get wasted in gruesome ways.
Late Checkout removes a component from the usual slasher formula: a local legend that makes up the killer's background is not present. We just have a masked lunatic appear out of nowhere, slicing and dicing. I have taken other slashers to task for leaving out this key element, as the subgenre is essentially a campfire story that can kill you. However, the exclusion works very well in this case. Not only is it a tangible commitment to getting to the goods quicker, but it is also developed into an existential dread that is chilling.
"…starts picking the partiers off one by one with an array of murder weapons."
Also, the killer's masked outfit pays homage so well to tradition it feels like any backstory is rendered moot. One unusual aspect is the interpersonal relationships between victims are developed further than you usually see. Remarkably, Graves and Souza manage to enhance the sympathy for their characters while galloping at full speed to their demise.
The real point of the film is the murder scenes. Thankfully, they are a real treat, featuring some outstanding practical gore effects by Deryk Wehrley. The effects artist gives us a blood-bag ballet that the horror crowd will lap up. His old-school blood and guts are good enough to have been censored back in the day. More love for old school is on display with fake VHS bootleg horror trailers that crop up, all featuring a creepy voiceover like the one in Eli Roth's notorious Thanksgiving trailer.
Perhaps the biggest tribute to slashers past in Late Checkout is the spotlight role given to cult star Felissa Rose. Her standout debut in Sleepaway Camp has made her a horror legend. Rose has since become a hot casting ticket for indie scary movies. Her role here, which can't be gone into detail for fear of ruining everything, allows her to cut loose a lot more than her other cameos. She really struts her snuff. The level of terror Rose achieves hits the kind of high slaughter marks only someone born to scare people get to. She also shows some great comic timing in the amusing mid-credit sequence, which is crucial to stick around for.
Graves obviously has a lot of love for vintage VHS masked mayhem. By reducing everything to a bare-bones expressway to entrails, Late Checkout shows it knows what the audience craves. The filmmakers have taken a dated hotel lounge cocktail and turned it into a jar of moonshine.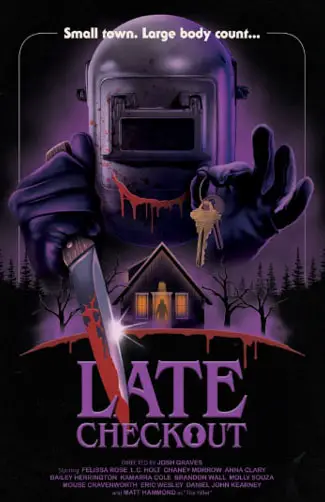 "…has a lot of love for vintage VHS masked mayhem."