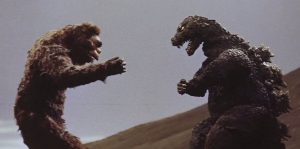 Returning to our series on the cinematic history of Kaiju Monsters, Toho Studios brings us the giant monster battle King Kong vs. Godzilla. Did Toho catch lightning in a bottle in this fight of a century by getting the license for the mighty gorilla from RKO pictures? Is this the team-up we've been waiting for?
Dr. Tako (Ichirō Arishima), president of Pacific Pharmaceuticals, feels the pressure as his "Wonderful World" series is slipping rapidly in the ratings. Tako sends two of the show's personalities, Osamu Sakurai (Tadao Takashima) and Kinsaburo Furue (Yū Fujiki), to the unexplored Faro Island to boost its ratings. Their quest is to find the island's legendary giant beast, King Kong, and to bring back a native berry found to have extraordinary healing powers and is non-addictive.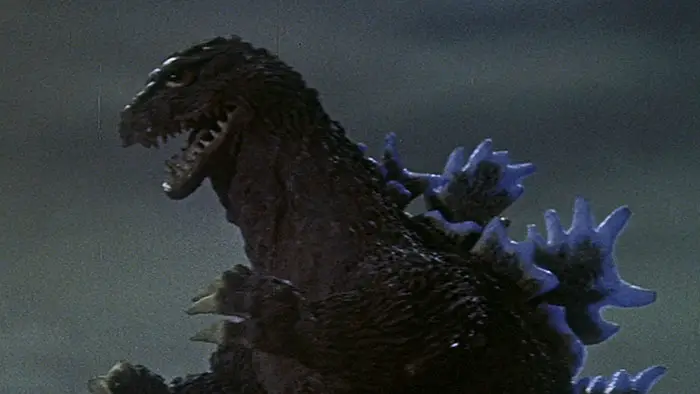 "…brings King Kong to Tokyo for a monster 'wrestling' match versus Godzilla."
Meanwhile, somewhere in the Arctic, a United Nations submarine, Seawolf, investigates strange Geiger readings and an increase in temperature. Soon, the Seawolf is caught in an iceberg containing an awakening Godzilla. This event is captured on a rival science show and becomes an instant ratings hit. Not to be outdone, Tako brings King Kong to Tokyo for a monster "wrestling" match versus Godzilla.
Toho Studios continues to evolve the storytelling potential of the Kaiju drama. Knowing little about the history of the film, I think it would be safe to assume that teaming up King Kong and Godzilla was a move to reinvigorate the Kaiju genre and create a connection with the West. Since then, the "team-up" has become commonplace among big studios with a vast intellectual property library. Often these team-ups look impressive on paper, posters, and in trailers, but the final execution leaves a lot to desire. My feeling is Adam Wingard's upcoming Godzilla vs. Kong is not going to fare much better.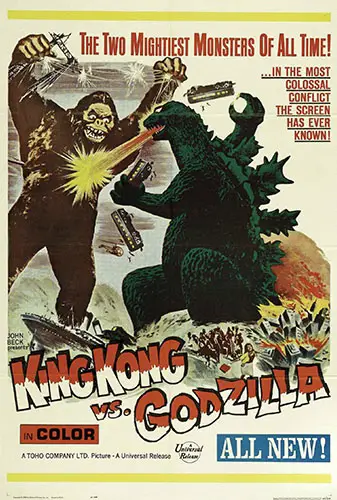 "…an inherent coolness and excitement when bringing two of our favorite characters together..."