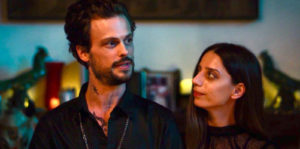 What the hell is writer/director Richard Bates Jr.'s King Knight about? It's been a while since I've seen a plot this confused and misguided. An inkling of an inventive concept lurks somewhere deep within the murk. Unfortunately, you'll be hard-pressed to spot it amidst all the meandering diversions, prepubescent humor, imbecilic dialogue, and curious casting choices. The film even seems uncertain about its genre; described as comedy and horror, it at least takes lame stabs at the former but fails miserably at the latter.
Chosen as high priest and priestess, self-proclaimed witch Thorn (Matthew Gray Gubler), and his life partner, registered nurse Willow (Angela Sarafyan), act as psychiatrists of sorts to their coven. "Go home and express that same kind of love with your penis," is the sort of invaluable advice they provide. But are they on the verge of experiencing issues of their own?
Thorn's hiding emails from a mysterious sender. When Willow finds out what the secret is, she's deeply infuriated. The coven banishes him, so Thorn embarks on a walkabout prior to journeying to a high school reunion to confront his past. But, before it all goes terribly awry, a pseudo-inspirational twist of sorts imbues our hero with renewed confidence. The end.
Thorn and Willow's mishap bunch of outcasts include boyfriends Desmond (Johnny Pemberton) and Neptune (Josh Fadem), who are undergoing relationship issues. Then there's also Percival (Andy Milonakis), an expert at welding and tying knots, whose girlfriend Rowena (Kate Comer) makes him feel inferior. And finally, there is brewery owner Angus (Nelson Franklin) and his freelance writer girlfriend Echo (Emily Chang), whose dog, in one of the numerous examples of razor-sharp wit, is named Women's Rights ("My intentions were pure," Echo protests).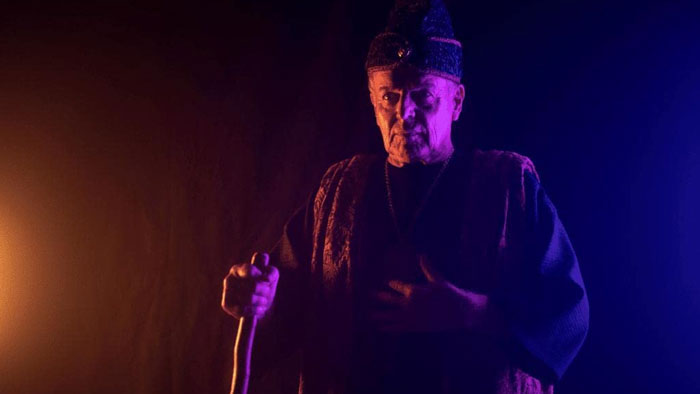 "…Thorn embarks on a walkabout prior to journeying to a high school reunion to confront his past."
Each character is assigned a series of quirks early on, to mostly remain in the background for the rest of the narrative. The circuitous plot goes nowhere fast, and there's only so much aimlessness a viewer can handle. King Knight attempts to lampoon political correctness, societal outcasts, and the quirks of the upper class (the mere mention of lacrosse makes a character scream in pure horror). But it should've been way more biting, incisive, merciless, and sharp. Its "jokes" are cheap, vulgar, and infantile. One of the characters gets pregnant by scraping cum off of a keyboard. Thorn lights a paper bag filled with poop on someone's porch.
"See that? That's what you get when you take the feminine out of the divine," Willow says pointedly, unaware that she's spewing nonsense. "Democracy is a f*****g illusion," is another example of the sort of wisdom this film serves up. "Even Trent Reznor flirted with ska in the late 1980s, but it's never too late to make amends," is perhaps the funniest line in the 74-minute runtime.
On the plus side, frequent Bates Jr. collaborator Gubler has an easy rapport with everyone, delivering shoddy lines with the conviction of a true screen stalwart. Another friend of the filmmaker, Ray Wise, cameos as Merlin the Wizard in an off-putting hallucinogenic sequence. Andy Milonakis – yes, that guy from the short-lived, bizarre MTV show – is as obnoxious as he was fifteen years ago (like, wtf is he even doing here?). Aubrey Plaza randomly voices something that almost has to be seen to be believed.
Despite the mildly impressive cast and the filmmaker's even more mildly impressive background, King Knight feels like a major step backwards for everyone involved. Amateurish, poorly framed, and edited, the film's worst sin is its inability to land a single joke, have any one line elicit a smile, much less a chuckle. Perhaps under the influence of a powerful hallucinogenic, one may be able to discern some merit here. If Bates Jr. were a real knight, this misstep would most certainly subject him to degradation.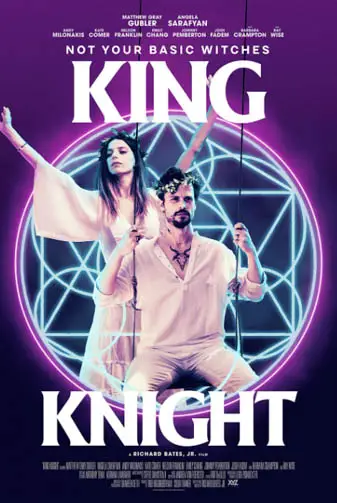 "…Gubler has an easy rapport with everyone..."