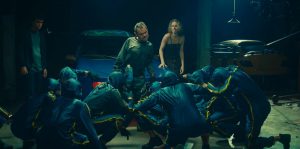 NEW TO THEATERS! King Car (Carro Rei), written by Sergio Oliveria, Leo Pyrata, and director Renata Pinheiro, begins with a child being born in heavy traffic as a car starts to drive itself to save the baby. Years later, now a teen, Uno (Luciano Pedro Jr.) discovers he can talk to vehicles and even makes friends with the very car that saved him. While this might seem like a blessing, he cannot turn it off, so Uno hears all the older cars complain about recent legislation banning them from the road.
So, with the help of his uncle, Zé Macaco (Matheus Nachtergaele), Uno begins transforming these junkers into sleek modern cars with the ability to speak. Human Mercedes (Jules Etling) even falls in love with a car, as others begin a cult-like following of the new vehicles. Then after a few mishaps with these cars, Uno starts to doubt the safety of his creations.
While King Car is a sentient vehicle movie, a la The Car or Christine (or Maximum Overdrive if you are into camp disasters), it is not a horror title wherein the cars are murdering everyone. No, the filmmakers are more interested in examining the social upheaval and how government and corporate interests align. While the themes occasionally get lost in the sheer spectacle of it all, there are more than enough points made to leave viewers with plenty to think about as the credits begin rolling.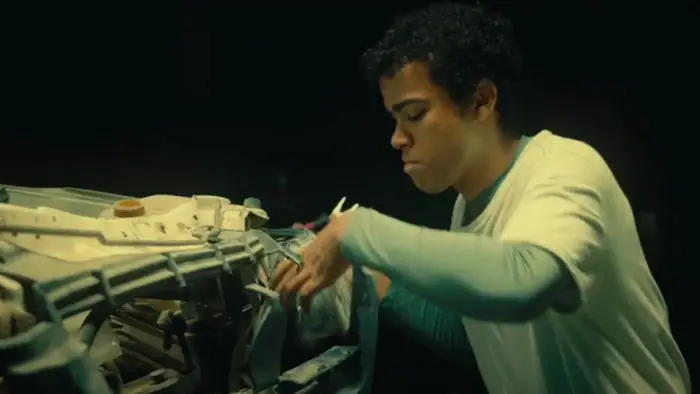 "…Uno begins transforming these junkers into sleek modern cars with the ability to speak."
Plus, this strange universe is populated with very engaging and relatable characters, even if one does not root for them. Nachtergaele portrays the inventive, if eccentric, uncle a bit goofy until the cultish turn when he becomes energized by the hybridization of human and vehicle. It is a fascinating turn that the actor plays perfectly. Pedro Jr. is most sympathetic as the well-meaning Uno. An early scene where he explains about him hearing the cars is heartbreaking, and his sweet demeanor is always on display.
Their supporting cast ably bolsters them up as well. Etling's ecstasy while she's having sex with a car (yes, seriously) is palpable, as is the anger in her voice later on. But everyone gets at least one moment to really let loose and shine, adding to the complex web of insanity that is this movie.
However, what makes King Car stand out is its set, production, costume, and art design. The film's world is fully realized and feels realistic. The redesigned "King Car" models have a retro-futuristic feel that perfectly fits with the movie's established look. The crazy jumpsuits of the cult are bright and stand out against the dusty grain of the town. The way certain people add circuitry or other mechanical bits to their everyday wear is fascinating to track and adds to the cult ideation that follows the cars.
King Car is chock full of beautiful and crazy sequences; all brought to life by a fantastic cast. The filmmakers swing big with their messaging and mostly hit their target. While parts of the film drag here and there and not every theme is seen to completion, it offers food for thought, a visual feast, and authentic emotions and thrills that will engage audiences on all fronts.
King Car screened at the 2021 Fantasia Film Festival.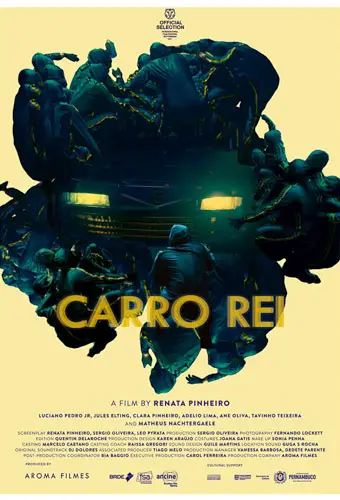 "…chock full of beautiful and crazy sequences..."