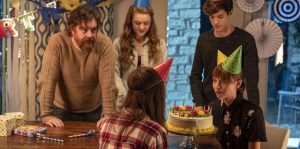 Lucky McKee has been around since the late '90s, directing some of the most interesting genre cinema out there, usually with women in the leading roles. Kindred Spirits is no exception, with all of the principal cast, save two people, being women. McKee teamed up again with former USC classmate Chris Sivertson (who directed I Know Who Killed Me and co-wrote and directed McKee's first film All Cheerleaders Die) to create his latest oddball thriller that is in the vein of classic female-fronted psychological thrillers  Whatever Happened to Baby Jane? or even Single White Female. 
Thora Birch, who I love and am so happy to see again, stars as Chloe, the single mother of the free-spirited high school senior Nicole (Sasha Frolova). She's secretly seeing Nicole's best friend's father, Alex (Macon Blair) and hasn't revealed because she's afraid of what Nicole and Shay (her best friend, played by Shonagh Smith) will say or do as a result. She's also worried that Nicole might be sleeping with her boyfriend, Derek (Isai Torres) and the fact that Nicole punched a girl at school, resulting in her suspension. It's right at this time that Chloe's younger sister, Sadie (Caitlyn Stasey) shows up to their home for the first time in a year or so. 
"She's..worried that Nicole might be sleeping with her boyfriend…" 
Nicole is supposed to be under punishment because she is suspended, but since Sadie is visiting, Chloe lets Nicole hang out with her aunt. The two have always been close, considering Chloe had Nicole at a young age and Sadie is only eight years Nicole's senior. Sadie and Chloe have a great time, going through her mother's old clothes and playing dress-up, then agreeing to join Shay and Nicole at a high school party. At the party is where we see that Sadie has more problems than just being a broke 25-year-old. A guy at the party flirts with her, and she tells him that she's in home school. From this point on, Sadie's sanity flickers on and off without much warning, and she starts indulging in nefarious behaviors to keep people away from Nicole and Chloe until finally, Nicole two becomes an obstacle in Sadie's dream of it being "just the two of us," meaning her and Chloe. 
I really wish that Kindred Spirits would have had an extra half-hour or so in the mix because Caitlyn Stasey is eerily delightful as the unhinged woman who sometimes still thinks she's a little girl. Sivertson and McKee would have had more time to build a solid backstory for why Sadie is so jealous and crazy. As it stands, it's fun to watch, but I would have loved a little more. I also wish that the relationship between Chloe and Alex would have been expanded on a bit. The action is a bit rushed through, and at times the film feels like a Cliffs Notes version of itself. However, I still think that Kindred Spirits is 100% worth watching, if just for the signature McKee camp and the great performances, especially from Stasey and Frolova. Kindred Spirits will also likely make you appreciate the family you have a whole lot more because I somehow doubt anyone has a sister THIS crazy. Even my brothers, who probably can't be convinced anyone's crazier than I am. 
Kindred Spirits (2019) Written by Chris Sivertson. Directed by Lucky McKee. Starring Thora Birch, Caitlyn Stasey, Macon Blair, Sasha Frolova, Shonagh Smith, Isai Torres, Olivia Rose Lasell, Valeria Jauregui, Liam Booth, Audrey Gerthoffer, Chelsea Woods, Bruce Bennett, Brent A. Riggs 
7 out of 10 stars