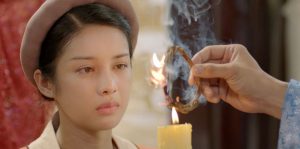 NEW TO AMAZON PRIME! Based on the Vietnamese literary classic, The Tale of Kiều by poet Nguyễn Du, director Mai Thu Huyen and writer Phi Tien Son offer their take on this romantic, yet tragic, poem in the feature film Kiều. The titular Kiều (Trinh My Duyen) is a young woman left orphaned after her father and brother are imprisoned for a crime they didn't commit. She's then taken away and sold to a bordello as her beauty and virginal status are sure to earn her captors great riches. However, a spirit looks kindly upon Kiều and supernaturally protects her from every instance of physical and sexual assault.
To gain top dollar from an evil lord obsessed with taking Kiều's virginity, her captor takes our heroine to the finest silk merchant, Thuc Sinh (Huy Anh Le), and its love at first sight between the two. He vows to rescue Kiều, and after a few battles and the old wedding switcheroo, Sihn and Kiều escape and find refuge in a beautiful valley where they literally build a home and live happily ever after. That is until Sihn must leave Kiều for a few days, and unbeknownst to her, he travels home to his affluent wife, Hoan Thu (Cao Thai Ha).
That's right, the dude is married, and his wife is unable to have children. Thu suspects that something is up and follows him to discover his mistress, Kiều. When Sihn leaves again, Thu conspires to kidnap Kiều, faker her murder, and take her in as one of her servants as a way to torture Sihn and his little secret.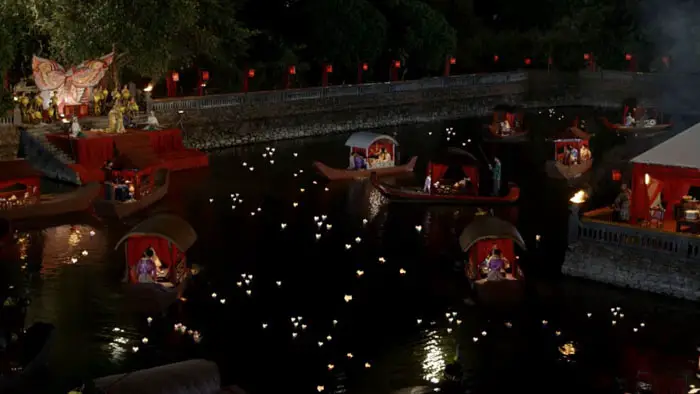 "…sold to a bordello as her beauty and virginal status are sure to earn her captors great riches."
What stuck out to me most was just how crazy this story gets. First, Kiều is a Vietnamese period piece taking place centuries ago. Second, it's a commentary on the oppressive nature of gender roles within a feudal system. Women are accessories to a man's status, and they are bought and sold as commodities and treated as such. Third, based on the plot, the dynamics between Kiều, Thu, and Sihn are absolutely insane, and our loyalties to characters are constantly shifting. Everyone has sympathetic reasons for their acts, but all are morally questionable at the same time.
The director has crafted a beautiful film thanks to its even more beautiful landscapes. If I didn't know better, I'd swear the drama was actually being used as a travel brochure for Vietnam. I've always said that what we Americans think of Vietnam is far different from what the Vietnamese think about their country. Vietnam overcame the horrific 1970s and is now a thriving and breathtaking country, and stories like this honors its ancient culture and traditions.
I would be remiss if it didn't point out one significant cultural difference between U.S. and Asian cinema. The storytelling here reminds me a lot of the Chinese soap operas my grandparents watched in my youth. Like those melodramatic plots, the acting is often emotionally over the top. Kiều's journey falls in line with the tied-to-train-tracks overwroughtness, which is par for Asian television and cinema. This is not a criticism of Kiều but more about setting proper expectations.
Nevertheless, Kiều is a must-see as it is among some of the best filmmaking coming out of Vietnam—almost as if it is a gift or a way to share the heart of Vietnamese culture with the West.
Kiều screened at the 2021 Newport Beach Film Festival.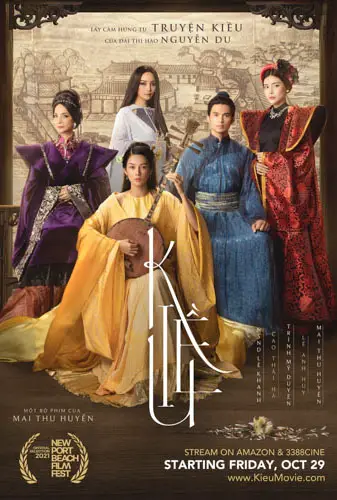 "…a beautiful film thanks to its even more beautiful landscapes."