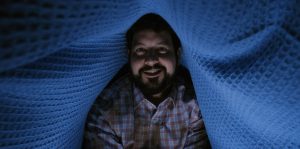 Sonny (Devin Das) and Noah (Ahmed Bharoocha) are door-to-door salesmen, partnered up and trying to survive the gloriously avaricious world of high-pressure life insurance sales in the darkly comedic horror film Keeping Company.
Sonny is ruthlessly ambitious, with little regard for anything except his career goals. Noah is a very nice man, a cheerful optimist who considers Sonny his best friend, which Sonny finds incredibly annoying, leading him to constantly correct Noah that they are just co-workers. Noah blithely crashes ahead in his misguided belief, disregarding his curmudgeonly colleague. He makes tea for prospective customers as Sonny puts the hard press on them to buy the most expensive insurance.
Sonny is a no-bullsh*t, take-no-prisoners personality who's being groomed for promotion by the amoral, mercenary owner of the insurance company, Paula (Gillian Vigman). Sonny's deep inferiority comes from the shame he brings his father for not being more successful, and he hungrily hangs on Paula's empty promises. Noah is a schmuck who is working to support his young family. Everything nice about him comes across as weakness.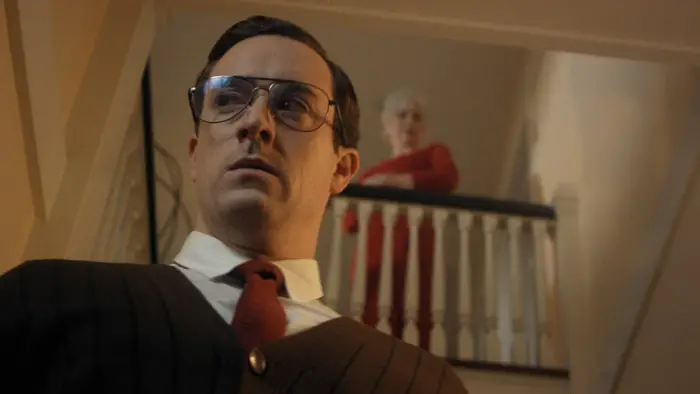 "…chained in his basement, they suspect this was probably the wrong person to hard-sell."
One fateful day, Sonny and Noah have a fender-bender with a nervous man named Lucas (Jacob Grodnik ), who flees the scene. They chase him down and insist that he can only avoid arrest by buying insurance. Later, chained in his basement, they suspect this was probably the wrong person to hard-sell. When it starts to get gory, they know it was. Early threads are resolved as this drama plays out that bring everything neatly full circle in a delightfully nasty reveal. The violence in the third act isn't surprising. It seems to flow naturally out of the atavistic undertones of the insurance company. Sonny and Noah run afoul of people who are just as viciously locked into their own approach to life as the salesmen are.
In Keeping Company, writer/director Josh Wallace explores the notion that sales and sales-people have their own culture, and it is, in a word, bad. More specifically, when it comes to sales, closing the deal is the overarching morality, where the vagaries of honesty and fair-dealing take a back seat. This generalization is, of course, wrong to some extent, but still serves as a useful shortcut when it comes to referring to sales and sales-critters.
In case his influences aren't clear enough to the viewer, Wallace peppers the narrative with occasional humorous looks at a political campaign where a man named Glen Garry is running for local office. David Mamet isn't sure whether to nod knowingly or hide under the couch. Of course, Glengarry Glen Ross is the reference standard for movies about salesmen, with Death of a Salesman a very close second. As the ultimately telling damnation of unchecked capitalism, examinations of the culture of sales are significant. Selling is the point-of-the-spear for capitalism. Caveat Emptor has become the creed and only moral for a whole sub-segment of society and could arguably be evolving to describe all of contemporary culture. The motto "Always be closing" is all there is.
The cast is wonderful, working as a seasoned comedy team to keep the film snapping along. Vigman plays Paula as gleefully evil to great comedic effect. She's a high-energy narcissistic sociopath, but you want to like her anyway. Their characters are overdone and bombastic, and each actor steps into that chaos with flawless energy. Keeping Company is a delirious carnival ride at the intersection between rapacious greed and murderous insanity, and definitely worth your uncomfortable laughter.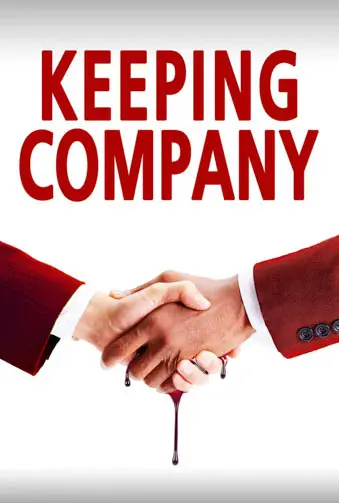 "…a delirious carnival ride at the intersection between rapacious greed and murderous insanity..."