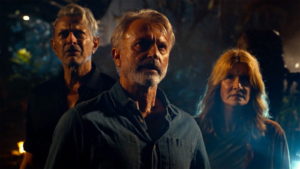 We live in a time of cinematic reboots, remakes, sequels, prequels, and re-imaginings. As such creatively-bankrupt ventures go, Colin Trevorrow's sixth installment in the Jurassic Park series, Jurassic World: Dominion, is surprisingly effective. Old meets new, quite literally, as the beloved characters from Steven Spielberg's original classic encounter their rebooted alter egos, and loving references and Easter eggs abound. But the film manages to (barely) step out of the shadow of its cinematic ancestor, finding the right balance between paying tribute and introducing a new take on an old formula. Of course, no film will ever beat or equal the original, but this just may be the second-best offering so far.
It's been several years since the events of the second Jurassic World film, Fallen Kingdom. Dinosaurs have spread all over the globe via the black market. A corporation called Diosyn Genetics, run by the clearly-dodgy Lewis Dodgson (Campbell Scott), controls the world's food supply, devising a highly elaborate scheme involving prehistoric reptiles and giant locusts. Ellie (Laura Dern) happens to be investigating said crops-devouring locusts before she reunites with Alan (Sam Neill) and later Ian (Jeff Goldblum), to take down Diosyn.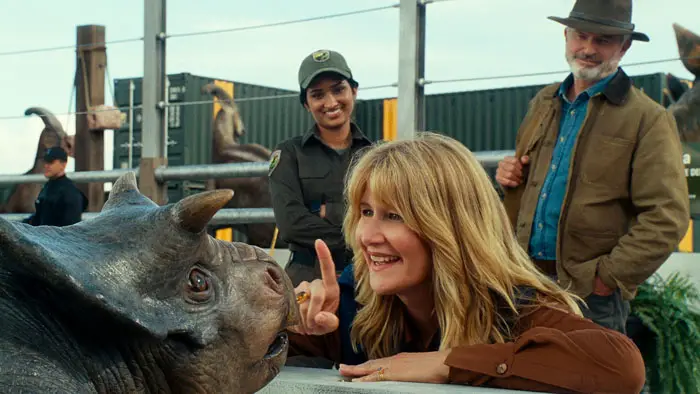 "When poachers kidnap both Maisie and Blue Jr., Owen and Claire join forces with black-market pilot Kayla…"
In the meantime, Owen (Chris Pratt) is busy lassoing dinos as Claire (Bryce Dallas Howard) rescues them from illegal breeding facilities. They reside together in a remote, woodsy cabin with the "most valuable intellectual property on the planet," the clone Maisie (Isabella Sermon), who's undergoing an identity crisis, feeling trapped and isolated. Although the cute raptor Blue and its even-cuter lil' offspring are frolicking nearby to keep her company, Maisie still takes her bike to town against her new parents' wishes. When poachers kidnap both Maisie and Blue Jr., Owen and Claire join forces with black-market pilot Kayla (DeWanda Wise) – and consequently meet the other, older heroic trio – to rescue the two children and bring down Diosyn Genetics.
In one tongue-in-cheek scene, Trevorrow ridicules his first foray into this universe, Jurassic World, which reignited the franchise seven years ago. He seems intent on not making the same mistakes – remember Bryce Dallas Howard outrunning a T-Rex in high heels? – and succeeds, for the most part. Sure, silly dialogue such as "It isn't enough to do nothing!" still permeates the overly convoluted/lengthy plot. Annoying characters still do annoying things. But no one expected Shakespeare. Jurassic World: Dominion is a tale of genetically-engineered dinosaurs running rampant through modern-day society, and as such, it's a blast. Moreover, underneath all the reverence, CGI/puppetry, and pomposity lies a nostalgic study of generational changes and even an urgent, albeit not-so-subtle, commentary on coexistence. Imagine that.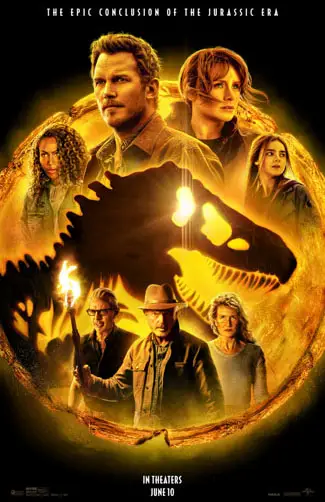 "…Trevorrow delivers a proper send-off to a faltering series."