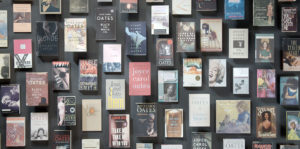 Joyce Carol Oates is among the most prolific American writers of our age. One hundred books she has published under her name and various pseudonyms. Quoting a phrase from one of Oates' most poetic works, Joyce Carol Oates: A Body in Service of the Mind explores all things to do with Joyce Carol Oates. The film opens with the director, Stig Björkman, recounting his process of "courting" Ms. Oates until she acquiesced to be the subject of a documentary. Her answer that she eventually wanted – after nine years – to be the subject and that her second husband, Charlie Gross, thought she should, is so very charming.
The film takes us from Oates' upbringing in rural upstate New York, near Buffalo, through her formative years at Princeton University, and finally through her career teaching literature at various places while writing many of the great American novels she is famous for. Blonde, We are the Waverly's, Wonderland, and A Garden of Earthly Delights are all superb examples of her writings. These titles and others will have excerpts read by Laura Dern. Laura has a great and clear reading intonation to her voice. I enjoyed the slightly stilted, generally clean reading Dern provided for all the selections of Ms. Oates' various novels.
"One hundred books she has published under her name and various pseudonyms."
Joyce Carol Oates is not shy about her political leanings, and it was informative to understand this woman spends as much on X (nee Twitter) railing against the political leaders of this country as she does teaching and writing. There is a small moment where Ms. Oates is walking us through her daily routine, and she admits to being a workaholic. "I like work" is the edifying phrase she utters. I, for one, cannot think of a more American ethos than that. A woman who is so devoted to her work, she publishes 1-2 novels any given year. She does not care for vacations, holidays, or generally sitting around anywhere. She would rather stay focused and busy on her occupation. This tendency of Ms. Oates probably explains why she'll only travel if she is to be a keynote somewhere. Or possibly to sign and present her latest publication. If you see them in your town, I guarantee you, gentle reader, she's not up to any tomfoolery. No, Ms. Oates is at work in some way.
Stig Björkman is no stranger to filming famous people. He also has prepared excellent films concerning Ingrid Bergman and Lars Van Trier. That it took a Swedish filmmaker nine years to gain the acquiescence of Joyce Carol Oates to be a documentary subject is just the sort of wry humor that embodies and endows Oates' own writings. He and his team have done a wonderful job seaming together passages from Oates' writing with vignettes from her public and private lives. Joyce Carol Oates: A Body in Service of the Mind is simply a beautiful portrait of a great American writer and personality.
If you're in the mood for a biographical film, Joyce Carol Oates: A Body in Service of the Mind is a splendid example. Seek it out, wherever it may be playing or streaming.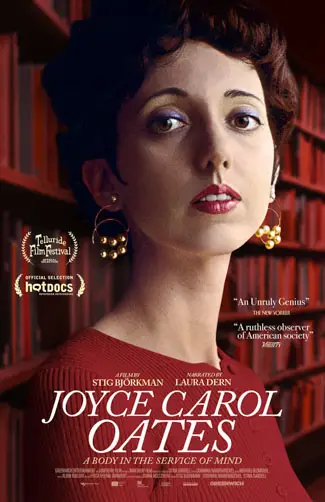 "…a beautiful portrait..."