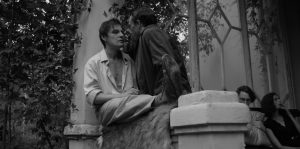 SLAMDANCE FILM FESTIVAL 2021 REVIEW! If you were to stroll through the cobblestone streets of Kaunas, Lithuania today, you would discover a borderline-idyllic city filled with trees, cafes, and stunning cathedrals. It's almost as if the Kaunas pogrom of 1941 – wherein pro-German Lithuanian nationalists massacred over 50 Jews in front of a crowd of cheering Lithuanians – never happened. Jurgis Matulevičius's riveting feature-length debut Isaac marks the first cinematic depiction of this event. A somber study of guilt, it also serves as a vital reminder of the atrocities humans are capable of and a controversial reexamination of a country's past.
Split into three parts, Isaac begins with a masterfully-orchestrated, six-minute opening sequence, shot in a continuous take, instantly drawing the viewer straight into the depths of human depravity. Andrius (Aleksas Kazanavičius) seems blank, his emotions atrophied, as hell on earth unfurls around him. He cold-bloodedly kills Isaac (Dainius Kazlauskas), a Jewish man, in a dank shed, before venturing back out into the mass slaughter. It's a breathtaking piece of cinema that establishes both the tone of the film and its director as a true master of the craft.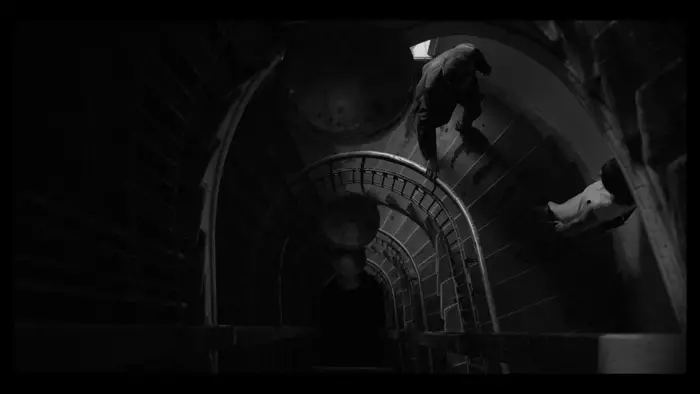 "…he's back for a reason: to make a film, a recreation of the horrific massacre…"
Years pass. Communist writer/ director and boisterous playboy, Gediminas Gutauskas (Dainius Gavenonis) returns home to Soviet Lithuania from the United States. He's greeted with much glory and fanfare. When Andrius' wife Elena (Severija Janusauškaitė) brings up welcoming the man, Andrius reacts bitterly and violently: he shoves food in her mouth, then apologizes promptly when she hides in the bathroom. That's two breathtaking sequences, and we're two scenes in, folks.
Bored with her job and unable to resuscitate her traumatized husband, Elena decides to meet Gediminas anyway and maybe even get a job as his assistant. "Is he still angry about the things he did all these years ago?" the filmmaker asks Elena about her husband. As it turns out, he's back for a reason: to make a film, a recreation of the horrific massacre, focused on a Nazi collaborator named Aleksas who brutally kills a Jew, Isaac Kaplan. This character is based on Andrius.
"…moments of grisly violence...resemble sharp stabs through a dreamlike veneer."