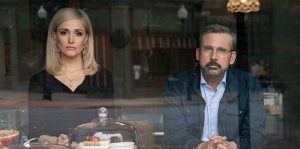 NEW TO AMAZON PRIME! For years, Jon Stewart has been a font of hilarious political commentary, particularly as the man who helmed The Daily Show the longest. So it's no surprise that his latest turn as a director is a comedy about politics. Stewart signed on his former Daily Show colleague, Steve Carrell, to steer the witty, slick comedy that is Irresistible.
Carrell is Gary Zimmer, a political strategist/campaign manager/DC Bigwig, fresh off the loss of the Hillary Clinton 2016 campaign. He's very depressed by the Trump victory that almost no one foresaw, in either the movie or real life. Then an employee of his shows him a video of a retired Marine Corp Colonel making an impassioned speech at a rural Wisconsin town hall meeting. Zimmer's spirits lift as he hits on the grand idea to help the Colonel, Jack Hastings (played by the always wonderful Chris Cooper), to become mayor of his tiny Wisconsin town of Deerlaken.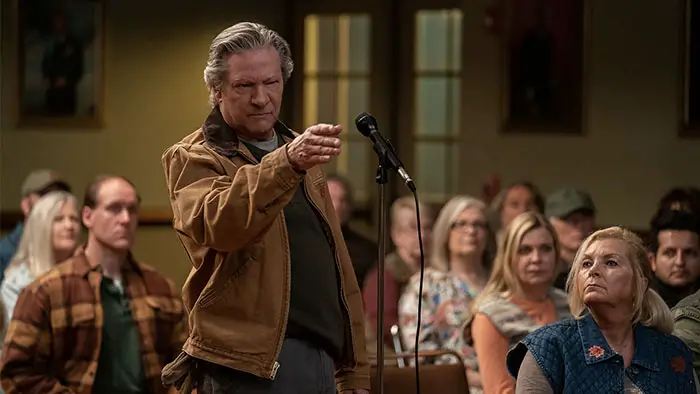 "..hits on the grand idea to help the Colonel, Jack Hastings, to become mayor…"
Zimmer arrives in Deerlaken, ready to bolster the Democratic Party through small-town politics. Quickly, he becomes a fish out of water—a slick DC man amongst Wisconsin farm-folk. Hastings's campaign starts to make waves with the help of his daughter, Diana (Mackenzie Davis), and a small group of campaign volunteers. So much so that Zimmer's Republican rival/counterpart Faith Brewster (played to Kelly Anne Conway perfection by Rose Byrne) arrives in Deerlaken to help the Republican incumbent mayor's campaign.
Because Jon Stewart is a comedian first and foremost, the dialogue throughout Irresistible is incredible, wickedly smart, and funny! In a sea of standout lines, one of my favorites is when Zimmer is speaking about Hastings and says, "He's like Bill Clinton with impulse control…Like a churchgoing Bernie Sanders with better bone density." It's hilarious. I'm betting it's Stewart's line because I can hear him saying it in my head, but it could also be Carrell improvising. Either way, they're a great team that compliments each other well. The rest of the cast is rounded out by Topher Grace and Natasha Lyonne as number-crunchers on Zimmer's staff, Will Sasso, as "Big Mike," one of the townsfolk in Deerlaken, and an absolutely hilarious cameo by Debra Messing as a cringe-worthy Democratic leader.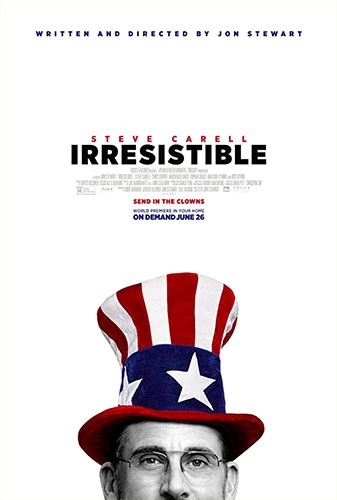 "…not some pandering leftist manifesto."