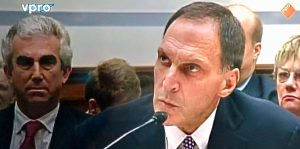 Ten years ago, Wall Street giant Lehman Brothers Holdings Inc. filed for bankruptcy, setting in motion a global financial collapse that took nearly a decade to correct. People who had their money invested with the firm lost everything and employees found themselves unemployed overnight, while CEO Richard Fuld walked away with barely a scratch. French journalist Jennifer Deschamps takes a new look at the events leading up to that collapse with candid stories from those inside the company who dared to speak out about the dangerous practices they saw around them in her frightening documentary Inside Lehman Brothers.
The narrative flows mostly from the words of two former top executives, Oliver Budde from the legal department and Matthew Lee of the financial section, alongside three female employees of Lehman subsidiary BNC Mortgage, Sylvia Vega-Sutfin, Cheryl McNeil and Linda Weekes. Together, they string together their individual realizations about the company's practices, the fraud they witnessed and their warnings, which not only fell on deaf ears but cost them their careers as they became blacklisted from any financial positions in the future. 
"…the fraud they witnessed and their warnings, which not only fell on deaf ears but cost them their careers…"
Budde and Lee clearly explain at the top level the number manipulation that was going on. Vega-Sutfin, McNeil, and Weekes describe the working environment at the corporation's lower levels, which included several forms of harassment from sexual to threats to having files disappear overnight as a result of their whistleblowing. Ultimately, it was a runaway train enabled by an entire culture of corruption that continues despite the explosive warning felt around the world ten years ago.
Deschamps masterfully interweaves these five distinct stories into a single vision of predatory business practices that went unchecked for so long; they became standard procedure. Rather than resort to Michael Moore grandstanding, she sits back and lets those involved guide the string of events that led to complete disaster. Most importantly, the players open up and reveal the damage they endured as a result of the collapse and the bitterness they felt as pawns and victims in their own right.
Earlier this year, President Trump signed a bill to significantly roll back the regulations put in place by the 2010 Dodd-Frank law. While this move kept in place the structures for larger banks, it gave free rein for smaller banks, i.e., subsidiaries. Subprime mortgages are up again, Wall Street still runs the SEC, and the top one percent continue getting tax breaks while everyone else struggles just to eat. How many Bernie Madoffs and financial collapses will it take to finally realize this system is not sustainable?
Inside Lehman Brothers (2018) Directed by Jennifer Deschamps. Written by Jennifer Deschamps. Starring Sylvia Vega-Sutfin, Matthew Lee, Oliver Budde, Cheryl McNeil, Linda Weekes.
9 out of 10 stars