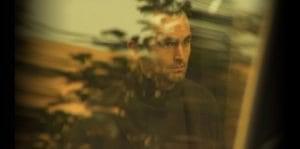 Egypt, under authoritarian rule, has been a boiling cauldron of political upheaval, and In the Last Days of the City, Khalid, a filmmaker, struggles to make a cinematic portrait of Cairo before it crumbles. Many of the landmarks he remembers from his youth are rapidly disappearing. Buildings are being torn down or are bombed out, the results of strife between warring factions. Several of Khalid's friends have fled the city that they loved and have taken up residence in Baghdad, Beirut and Berlin. His ex-girlfriend is leaving the city, too, and his mother is ill.
With frequent demonstrations in the streets and the police and military standing by, there's no telling how soon fighting will erupt again, leaving no trace of the place they knew. That's what fuels the urgency of his project, and we sense his trepidation as he works in the video editing suite, trying to piece together fragments of everyday life in Cairo.
"Khalid, in his second-floor apartment sees from his window an apparent domestic conflict. A man physically overpowers a woman…"
Frustrated in his attempts to get his arms around such a challenging subject as the strife-torn Egyptian capital, he calls on his friends in exile to shoot footage in their respective new homes away from home and send him what they record. They send him videos of their reflections on their new locations as well as sometimes poetic memories of the one they left behind.
Khalid's most immediate problem is finding a new apartment in Cairo, and that brings a few of the film's comic touches when a slippery real estate agent leads him around the city, showing him sub-par flats. In the living room of one of the apartment he's shown, chickens are roosting.
As Khalid makes his way around Cairo, through the city's narrow alleyways and boulevards, his travels are punctuated with occasional radio news bulletins, a constant reminder that this is a country in the throes of turmoil. And what a fascinating city Cairo is. There seems to always be something unusual, exotic and frightening happening in the streets. Whether it's the Islamic Brotherhood demonstrating, groups of Muslim men praying, the police and military on guard, or crowds of spectators glued to video screens and getting charged up over World Cup soccer. We see the battle-weary civilians in one of the film's few joyous moments as they enjoy some respite in the excitement of an international athletic event.
As Khalid wanders the streets the film is surprisingly compelling to watch. Call it a visual collage of the city or an exotic travelogue, it does have the kind of ancient, dusty and oxidized look that is great visual eye candy.
From the start, the film has trouble coalescing into an identifiable storyline, and never quite becomes more than the sum of its parts. It takes a while before we even begin to find the film's emotional backbone. Khalid ( Khalid Abdalla), who is likely meant to be a stand-in for writer-director Tamer El Said, seems emotionally divorced from his surroundings. He's still smarting over his breakup with girlfriend Laila (Laila Samy) but managing to tamp down his feelings by immersing himself in his work.
The most starkly realistic and gut-wrenching scene in the film doesn't involve riots in the streets, but is just as arresting. Khalid, in his second-floor apartment sees from his window an apparent domestic conflict. A man physically overpowers a woman — we could presume she's his wife — and assaults her. Khalid watches, visibly tense, and picks up his  camera to record the incident. The man notices that he's being watched and snarls at Khalid, who eventually turns the camera off. It's hard to tell why Khalid reacts in this way, since we're not given any clues. We could suppose that the filmmaker is trying to say that documenting the crime rather than intervening is Khalid's only option in a society that tolerates spousal abuse and protects the abuser.
"Buildings are being torn down or are bombed out, the results of strife between warring factions."
The film never picks up on this thread, but instead continues on with Khalid's urban odyssey, where he meets up with Laila before she leaves the city. The film proceeds at a leisurely pace and a melancholy mood, but never really comes to any conclusions.  
At one point near the end of the movie, one of Khalid's contemporaries, upon seeing his work-in-progress film cries out in exasperation, "We just keep going around and around. What's the link?" We might wonder the same thing.
The film makes relatively clear the predicament that each of the main characters is in, but fails to make a compelling connection between its parts, or morph into a coherent, complete story. The filmmaker hangs a lantern on this fundamental problem with the story. That's to say, he's makes a point of blatantly calling attention to the story's fragmented nature, and in turn hopes that we will accept this blemish as part of the film's aesthetic fabric.
Fragmentation is perhaps an apt metaphor for the broken city in which he lives, but it comes up short in the character development department.
In the Last Days of the City (2018) Directed by Tamer El Said. Written by Tamer El Said and Rasha Salti. Starring Khalid Abdalla, Laila Samy, Hanan Youssef, Mariam Saleh Saad, Hayder Helo.
5 of 10