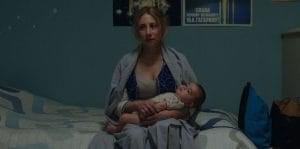 The thorns of war are brutally stinging in In Syria, a drama film impeccably mounted by the Belgian cinematographer turned director Philippe Van Leeuw (The Day God Walked Away).
The internationally known Israeli-Palestinian actress Hiam Abbass (Blade Runner 2049, The Visitor, Lemon Tree) is Oum Yazan, a courageous mother who gets trapped in her apartment in Damascus with merciless snipers surrounding the building. She is in the company of her three children, her depressed father-in-law Abou Monzer (Mohsen Abbas), her daughter's boyfriend Karim (Elias Khatter), the housemaid, Delhani (Juliette Navis), and a recently married couple, Samir (Moustapha Al Kar) and Halima (Diamand Bou Abboud), who live in the apartment above hers but were forced to move out when a bomb hit their living room. This couple has a newborn to protect and the perilous situation they're going through doesn't leave them a better option than fleeing from the city. After all, food and water are not abundant, and the place is constantly under menace.
"…a courageous mother trapped in her apartment in Damascus with merciless snipers surrounding the building."
With her husband away on a mission and numerous roadblocks hampering the free circulation, Oum uses all the matriarch's authority to make sure everyone obeys her strict orders, especially in the case of a sudden attack. However, despite her tenacity and controlling nature, there was nothing she could do to prevent Salim to go out and be shot, after which he was left in the parking lot. Another helpless situation occurred when two men broke into the apartment and caught a resistless Halima off-guard.
In the throes of this harrowing, devastating scenario, the slightest good-natured and funny circumstance, even very limited in number, is felt as an urgent gratification. Thus, it was quite comforting to see the beautiful relationship and strong bond between Abou and his naughty grandson, who loves to prank him from time to time.
Shot in Lebanon, this splendidly acted film – some of the non-professional actors are real Syrian refugees – replicates the daily horrors lived by those threatened with their lives, and concludes with the disquiet uncertainties with which the Syrian people currently endure. Anger, guilt, and anguish become inevitably present in a tumultuous, anarchic world that every true man should be ashamed of.
In Syria (2018) Directed by Philippe Van Leeuw. Written by Philippe Van Leeuw. Starring Hiam Abbass, Diamand Bou Abboud, Juliette Navis, Mohsen Abbas, Elias Khatter.
8 out of 10 stars