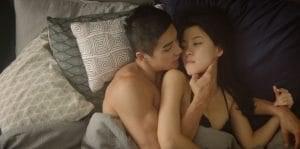 Just because I had to look it up, the phrase "New York minute" is the time it takes for a traffic light turning green and the taxi cab behind you honks its horn. It's a reference to the frenzied and hectic pace of living in New York. It's also somewhat thematic of Li Ximan's feature film based on a series of short stories, In a New York Minute, as she weaves together the stories of three Chinese and Chinese-American women in this anthology film.
The film opens with Amy (Amy Chang), a famous food critic, who lost her appetite after a traumatic breakup with her boyfriend. Just being in the presence of food causes her to throw up. Coming to her rescue is co-worker Peter (Jae Shin), who helps wean her back on solid food. In a way, Peter hopes his kindness translates into a romantic relationship. Meanwhile, Amy's friend Robert (Mark Delabarre) needs her to act in a video segment spotlighting a Pho restaurant. Robert thinks Peter would be great pretending to be her boyfriend in the video. Is there hope for this hastily thrown together romance?
"…a famous food critic, who lost her appetite after a traumatic breakup with her boyfriend."
Angel (Liu Yi) is an immigrant from China and married to Howard (Erik Lochtefeld). Rather than living her life as merely Howard's second wife, Angel seeks excitement and becomes an actress. After several auditions, she gets the lead role in a movie about a woman, so hurt by love she jumps off a bridge. Possibly a parallel to her real life? Angel and Howard's marriage has grown stale, and while Howard goes away on a business trip, Angel uses her freedom to spend time with her lover David (Ludi Lin), who is unsure about commitment.
Nina (Celia Au) is a young woman, who makes her living as an escort. When her most lucrative client tells her he's moving back to China, Nina takes a job at a local Chinese gentlemen's club. Meanwhile, at home, Nina's "family" is pretty screwed up. In a way, Nina is a modern-day paper-daughter. She came to the states at a high financial cost to her family and is honor-bound to pay the debt off. At the same time, she can taste freedom through her entrepreneur boyfriend Ian (Roger Yeh).
"…not only a very Asian story, but it's a very American one as well."
In a New York Minute has three special elements going for it. The first is Li Ximan's wonderful storytelling. Each woman's story, while not necessarily new, is unique (yes, I'm contradicting myself). In the third act, the three stories crisscross to its conclusion around a single home pregnancy test. Brilliant. Second, the stories are specifically Asian-American and highlighting three women in different points on the immigration or generational timeline. Lastly, great performances all around particularly from the film's three leads, creating three distinct and intriguing characters. Let me also give props to the fantastic cinematography from Mego Lin. He captures New York beautifully.
Don't just see In a New York Minute because you want to see empowering stories of Asian and Asian-American women. See it because you want to see good stories. Quite frankly, see the film because it's not only a very Asian story, but it's a very American one as well.
In a New York Minute (2019) Written and directed by Li Ximan. Starring Amy Chang, Jae Shin, Celia Au, Liu Yi, Ludu Lin. In a New York Minute screened at the 2019 Newport Beach Film Festival and the 2019 Los Angeles Asian Pacific Film Festival.
8 out of 10 stars