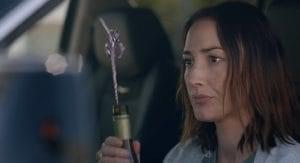 Living as a resident of the idyllic California town, Paradise, Maddie (Bree Turner) is a stay at home mom whose whole life is devoted to her children. A smiling, nurturing fount of joy for everyone to love. Except at the beginning of I'm F&$#king fine we see Maddie's veneer of perfection begin to crack. The film starts in a Whole Foods/Trader Joe's-esque grocery store. Maddie is pouring a bottle of wine into a sippy cup. After shopping, she goes out to her car where we see her drinking directly from the bottle of wine with a crazy straw, attempting to crop her ex out of a photo on her phone.
Everyone else in the town of Paradise seems a little…well..terrifying. Think Stepford Wives or The Faculty. Plastered on grins concealing casual racism (renaming the school janitor Mr. White, so that people wouldn't know he was Latino) and god knows what other kinds of terrors inside the heads containing them. Brooke (Candace Kita) and Kyle (Jonathan Stoddard) are two of Maddie's neighbors who show up at her house uninvited, creepy smiles in tow. They keep asking Maddie if she's okay because her grin isn't plastered on and she seems to be the only one out of all the mom's who aren't taking what the Rolling Stones would call Mother's Little Helpers, prescription pills that the rest of the mom's chew like candy. All the dads are aging punks with longboards and weed delivery guys. It's very on the nose.
"…we see Maddie's veneer of perfection begin to crack."
The film plays with the same themes like the smash HBO series Big Little Lies except in a surrealist Luis-Bunuel-meets-Maroon-5 sort of way that must be seen to be believed. It's not perfect, some of the songs are kind of annoying (this isn't a musical, there are just a few songs here and there…maybe it IS a musical!), but it's pretty damn hilarious. It points the finger at the plasticine dreamworld where a lot of the elite throughout the United States resides. Although the structure is a little simplistic, I'm F&$#king fine illustrates our national and worldwide obsession with "Keeping Up With The Jones"…or The Kardashians, while reminding us how fruitless and insane that obsession is. I definitely recommend watching I'm F&$#king fine if you're a fan of The State or Tim and Eric's Awesome Show Great Job! It's absurd yet topical, and it made me feel a little bit better after having a rather hectic day. Perhaps it can help you do the same.
I'm F&$#king Fine (2019) Written and Directed by Jamie Anderson. Starring Bree Turner, Candace Kita, Jamie Anderson, Nican Robinson, Daniel Travis, Jonathan Stoddard, Toneey Acevedo, Jessica Moreno, Audrey Hope.
7 out of 10 stars