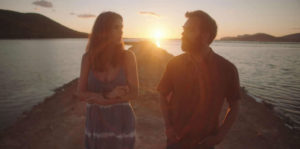 SANTA BARBARA INTERNATIONAL FILM FESTIVAL! Ibiza Blue (La corriente) is a beautiful and impressive feature-length debut from Spanish-born actor Jesús Lloveras. He co-wrote the film with Joan Lloveras Mora, which indirectly deals with the isolation of the COVID lockdown. Jesús Lloveras also stars in the drama.
Jesús Lloveras plays Carlos, who has fallen out of touch for years with Julio (Gonzalo Bouza) after an intense tragedy befell his best friend. Sadly, Carlos experiences misfortune and decamps from mainland Spain to the island paradise of Ibiza to reconnect with Julio, who has given up work as a doctor and is living in a trailer serving as a handyman. As Julio goes about his work during the day, Carlos trains to fulfill his dream of swimming the 9.5-kilometer stretch of the ocean over to the next island.
 A tourist, Alba (Alicia Lorente), also escaping personal woes, newly arrives in Ibizia, and Julio is determined to help her. Eventually, the two start a slow, tentative courtship, unbeknownst to Carlos. Carlos swims up on an isolated beach and encounters Alba sunbathing, and the two start to fall for each other. The love triangle builds, with none of the parties knowing the relationship each has with the other until it comes to a stormy conclusion.
After we've all spent countless months locked down and isolated, experiencing tragic losses from COVID, I've been surprised that few films have tacked this shared worldwide experience. Perhaps the enormity of the task is too overwhelming. Of course, we can document, but what can we add? Ibiza Blue grapples with the pandemic brilliantly and poetically, exploring themes of personal loss, isolation, and missing friends, while still finding beauty in nature and the joys of connection.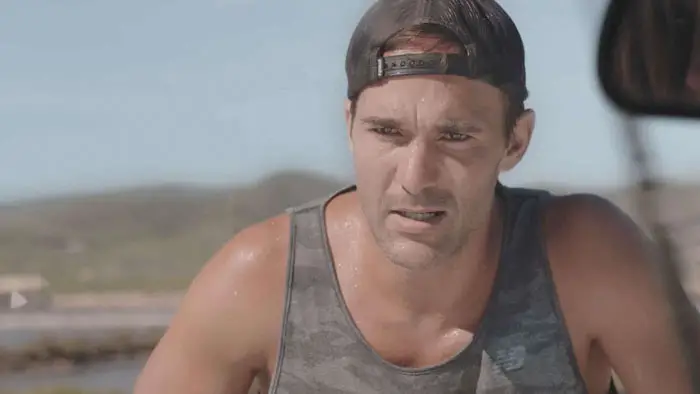 "The love triangle builds, with none of the parties knowing the relationship each has with the other…"
I've been following Lloveras' career after seeing him in the brilliant, taut thriller Day Release. The guy is extraordinarily talented, but acting alone is not enough in show business. He's written some excellent parts for himself, and I'm happy to see that he's as gifted a director as he is a writer and actor. Here he's put together an incredible film under severe lockdown and budgetary constraints. For example, while Julio's tragedy plays out at the beginning in remarkably economical rapidity, the others are only glimpsed in beats and moments in flashback, contrasted by the present setting of paradise. The result is lyrical and poetic, reminiscent of early Terrence Malick.
Certainly, there are limitations to shooting at a time when few could congregate or travel. Lloveras turns these to his advantage by making an intimate film, where most scenes are either a single character or two. Even the use of masks is a subtle form of symbolism. We also get to see the natural side of Ibiza, something rarely highlighted on an island infamous for raging parties. There is one place where narratively, an accident was slightly unclear due to either budget limitations or filming restrictions. But there are enough context clues to get the gist of what happened.
Americans can have a puritanical streak and may get hung up on the fair amount of nudity in Ibiza Blue. For my money, there's nothing wrong with seeing beautiful people in beautiful settings. But it serves a broader narrative point as well. These characters are perfect physically but have some work to do mentally. And sometimes, baring it all physically ourselves parallels revealing ourselves in other ways. This can let us bare our soul to people we've just met, despite not confiding in our friends we've known for years. The excellent acting and gorgeous cinematography help solidify this point.
COVID has destroyed and overturned all of our lives. I now can take some solace in knowing that it's responsible for producing works of art as beautiful and thoughtful as Ibiza Blue.
Ibiza Blue screened at the 2023 Santa Barbara International Film Festival.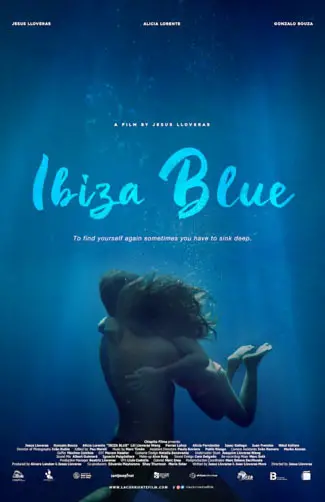 "…beautiful and thoughtful..."