As the Justice Department's findings into the Louisiana Police Department's discriminatory practices have recently demonstrated, there are more than a few bad apples in this country's local law enforcement agencies. Kevin Abrams' I Got A Monster, based on the book of the same name by Baynard Woods and Brandon Soderberg, demonstrates just how core-rotten they can become when allowed to operate unchecked. Regardless of one's personal stance, this documentary should be required viewing for those wishing to engage in the national discourse on how fragile our "thin blue line" can become without checks and balances.
In the 2010s, Baltimore Police Sergeant Wayne Jenkins ran a special unit called the "Gun Trace Task Force." They were assigned to "clean up crime" in the streets, which often targeted minorities in the low-income districts within. For about five years, Jenkins and his eight plain-clothed officers used their power to terrorize residents by planting drugs and weapons and robbing those they stopped. These officers were often running their own drug-selling operations on the side. Jenkins' reputation was one of a force of nature, which often absolved him of any charges along the way. As long as his arrest numbers were spiking, the department could statistically prove that his task force was working.
Our main protagonist is Baltimore Defense Attorney Ivan Bates, who began amassing cases from victims of Jenkins and his minions. A lifelong resident of the city, it is easy to see how he aches to witness what it has become and how desperately he wants to return it to its former glory. Throughout I Got a Monster, Bates leads us through his process of chipping away at the armor surrounding the officers as he builds his case. We hear firsthand from those victimized and Bates' methods of evidence collection, all despite a system erected to, at best, turn a blind eye and, at worst, surround and protect Jenkins and his team.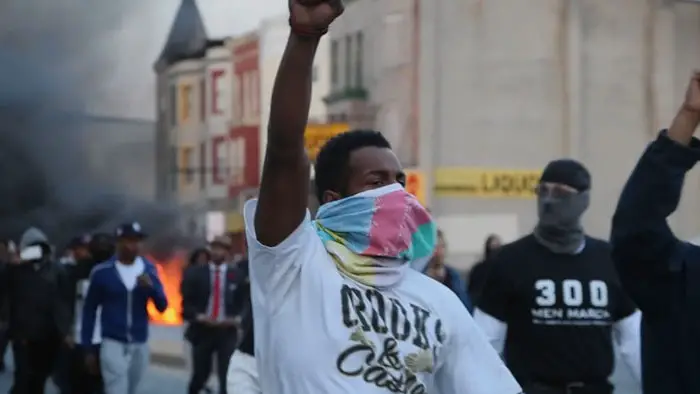 "…Jenkins and his eight plain-clothed officers used their power to terrorize residents…"
Living near Baltimore, Maryland, the trials and tribulations of the Gun Trace Task Force made nightly news for this writer. It all came to a head in 2015 with the death of Freddie Gray, a 25-year-old man arrested for possessing a "switchblade" tossed inside a Baltimore Police transport van. Forty-five minutes later, he was found unconscious, not breathing, and his spinal cord nearly severed. When the city erupted in protest following Gray's death, Jenkins was awarded a bronze star for his "heroic actions" during that time.
The rest of the country may have been exposed to just how corrupt this group was by way of David Chase's fictionalized account, We Own This City, starring Jon Bernthal. However, with all due respect to the talented Mr. Chase, I Got A Monster hits much harder, as much of the drama comes from the mouths of those directly impacted by the criminal cops. Several of the innocent individuals whose lives and livelihoods were left in the task force's wake are detailed here. The results are devastating.
Jenkins' plain-clothed cops suddenly flanked Umar Burley in unmarked vehicles in what one referred to as a "two-car pinch." His story is particularly harrowing. Burley describes being ambushed by unidentified men while in his car and fleeing, fearing being carjacked. The resulting chase ended with him crashing into another vehicle, killing its driver.
Despite all the overwhelming information amassed, Abrams keeps I Got a Monster lean and tight. He never once leaves the audience feeling like there are gaps needed to fill. It takes little time to become crystal clear that this absolute power given was corrupted absolutely by Jenkins and his men. As the country continues to grapple with exactly what role police play within its communities, this documentary serves as a blaring siren as to what can happen when any one group is given blanket immunity to "protect" and to "serve."