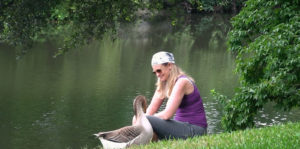 Friendships come and go, but it's the deep, long-lasting ones that last forever. Cheryl Allison's feature film, Honk, documents her friendship with a goose. That's right, a goose.
Living during the COVID lockdown in Texas, one of the only activities the director could enjoy was her outdoor, socially-distant walks by the lake. Then, one afternoon, Allison bumped into a goose she had never seen before. The fowl immediately took a liking to her, and an eternal bond was formed. She named the goose Honk and immediately posted her new friendship on Instagram. This odd relationship quickly became a viral sensation.
After some research, Allison realized that Honk was a domesticated goose. He was most likely a farm animal just before being dumped off at the lake when the owner no longer had use for him. Since Honk didn't know how to survive on his own in the wild, she would come every day to feed Honk with nutrient-rich pellets. Because Honk had no fear of approaching humans, he became more than just a pet to her. To Allison's credit, she knew that Honk was lonely and their friendship alone wasn't enough for Honk's well-being. This is where the Rogers Wildlife Rehabilitation Center comes in.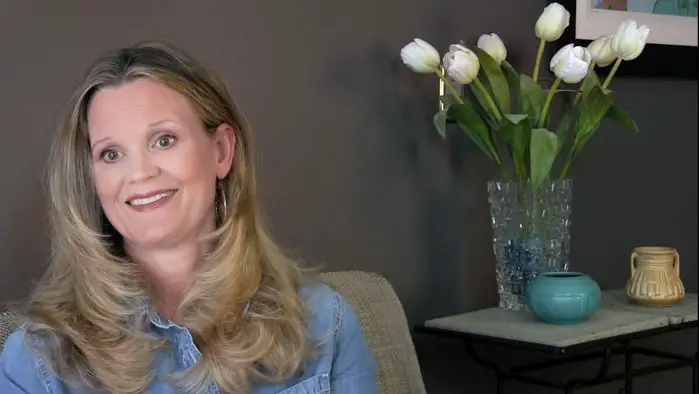 "The goose immediately took a liking to [Cheryl Allison], and an eternal bond was formed."
Honk is a very simple and straightforward documentary, but one with a heartwarming and positive message behind it. Actress/filmmaker Cheryl Allison masterfully tells the tale of Honk and herself. She keeps the fun and engaging narrative flowing at a good pace and puts the spotlight much more on Honk than herself. Maybe she humanizes Honk too much for my liking, but that's crusty old me talking. Either way, the story of Honk is a breath of fresh air compared to the dark themes of contemporary documentaries.
What I appreciate most about the documentary is the filmmaker's attempt to do what's suitable for Honk rather than play out a relationship with an animal for the sake of a social media following. The documentary urges parents to stop buying baby ducks and geese as pets, especially because babies don't stay babies very long. Allison also spotlights the work of wildlife centers that are more than willing to accept these now-unwanted animals no matter how crowded they get.
Making a documentary about yourself is always a dicey proposition. However, in Honk, Cheryl Allison shows enough humility to tell a heartwarming story of her friend, Honk, while making the right sacrifices for her friend's good. If you're looking for a real-life story for you and your family, this will make an excellent tale for your next movie night.
For screening information about Honk, visit Cheryl Allison's official website.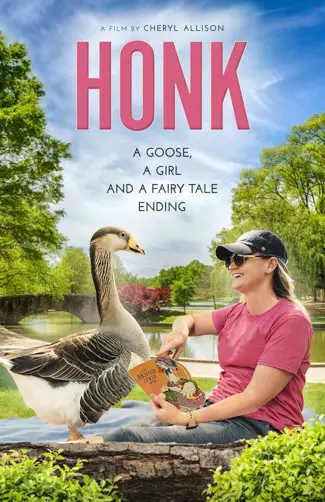 "…an excellent tale for your next [family] movie night."