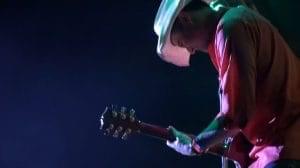 As things went during the heady days of the 1990s alternative rock boom, The Refreshments didn't have it half bad.
In the major record labels' mad rush to snap up any buzzworthy local band that had even the faintest glimmer of potential to be the next Nirvana, a handful of acts definitely did manage to hit it big, but countless others were chewed up and spit out by the music industry before they were able to release even a single record. Thus, even by themselves, a mega-hit radio/MTV single and a theme song writing credit on a long-running animated TV sitcom – the Tempe, Arizona band's two major claims to fame – represented a much more successful run at rock stardom than a lot of their fellow travelers ever achieved.
"…refreshing to see a bunch of guys who are grateful and perceptive, rather than bitter, about their moment in the spotlight."
That optimistic perspective on the past is infused throughout director Taylor Mordem's documentary Here's to Life: The Story of The Refreshments, which catches up with the band nearly 20 years after the runaway success of their one and only hit song, the countrified pop-punk tune "Banditos." Though they've undoubtedly been saddled with the ever-reductive "one-hit wonder" tag and most of their million-dollar dreams never materialized, it's – no pun intended – refreshing to see a bunch of guys who are grateful and perceptive, rather than bitter, about their moment in the spotlight. The film's title is an apt one; this is as life-affirming a documentary about the aftermath of a brush with success as can be imagined.
Here's to Life is mostly upbeat, laid-back, and genial in tone, and those qualities can also be readily applied to The Refreshments themselves – none more so than extraordinarily affable frontman Roger Clyne. Shot in interview segments sitting out behind a comfy-looking RV, a kiddie pool full of cold brewskis not far from his reach, Clyne is light years away from the resentful, washed-up rocker cliché that those unfamiliar with him might imagine. He and the rest of the band – drummer P.H. Naffah and guitarist Brian Blush appear in interviews, bassist "Buddy" Edwards does not – come off as alternately bemused, awestruck, and good-naturedly nostalgic about their origins, their accomplishments, and what followed, and it shouldn't spoil anything to note that the ultimate ending of their story is a relatively happy one.
"Surely, some of that music is ripe for rediscovery…"
While it succeeds as a profile of a likable group of talented musicians, though, as a documentary, Here's to Life doesn't always serve the music as well as it could. "Banditos" looms large over the film, much as it does the band's career, and indeed, it's basically the only Refreshments song that's heard for more than a few seconds until just before the end credits roll. That's an odd choice, considering that Morden and his interview subjects work hard to establish Clyne's keen songwriting chops and Blush's guitar viruosity; spending time on some – really, any – of the lesser-known Refreshments material would have more convincingly made that case. Surely, some of that music is ripe for rediscovery, but you'd never really get that sense from watching what ought to be a much more effective showcase for it.
There's a curious lack of context about the local culture and the music industry climate that birthed the band, as well, with little input from their peers in the early 90s Tempe music scene and only a few cursory observations about the bigger picture of "alternative rock" during the band's heyday (though stalwart former MTV host and Refreshments fan Matt Pinfield is on hand to contribute some of his encyclopedic knowledge of the era). It's likely that there's a somewhat bigger and more complex story to be told around the rise and fall of The Refreshments and how it paralleled that of the overall musical landscape that they emerged from, but Here's to Life only just hints at it.
That's not to say that even those who haven't given much thought to The Refreshments as of late won't have a good time with the film, and fans of Roger Clyne & The Peacemakers – the now long-running band that eventually formed in their wake – should especially appreciate the treatment they're given here. And if Here's to Life is a little too myopic when it comes to The Refreshments' discography, well, "Banditos" is a pretty excellent song, and well worth celebrating, even if it's the only one the band ever recorded that didn't need the recognition.
Here's to Life: The Story of The Refreshments (2017). Directed by Taylor Morden. Starring Roger Clyne, P.H. Naffah, Brian Blush, David Dobkin, Alice Cooper, Matt Pinfield, Gerald Casale
3 1/2 out of 5