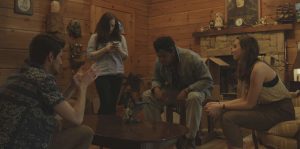 Something surprising happens about midway through the kids-stranded-in-the-woods thriller, Here On Out. You realize with rapt delight that you are not, in fact, watching your run of the mill madman-picks-off-teenagers-one-by-one horror film, but rather an insightful and genuinely engaging thriller rooted in the fear of the unsettling transition from childhood to adulthood.
There have been countless movies depicting the confusing, lonely, and sometimes terrifying realizations that it's time to put your big boy/girl pants on and begin life as an adult member of society. Mostly these types of films involve exploring the last days before graduation a la Dazed and Confused or celebrating at that one final blowout before everyone moves on a la Can't Hardly Wait.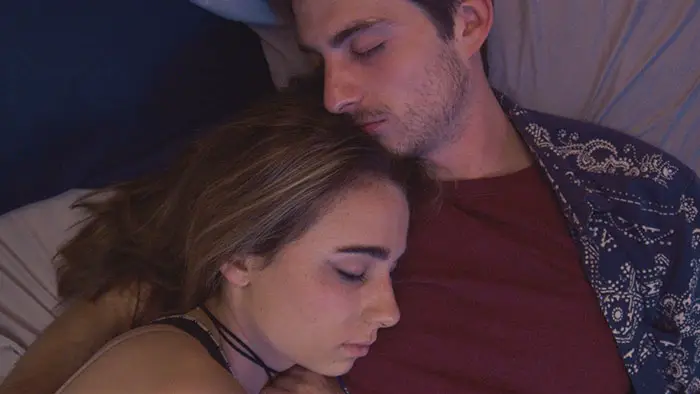 "…Hal relays a creepy urban legend about a group of orphaned children that…resorted to cannibalism."
Here On Out follows a similar track, but frames its sentiments in a twisty thriller that doubles as a not-too-thinly-veiled metaphor for the apprehension that accompanies such seismic life changes. Each of the five primary characters that inhabit the story is, in his or her own way, fearful of what the future brings.
Standard "final girl," excuse me, average American teenager Francis (Nicole Brydon Bloom) has invited her two girlfriends, cool college friend, Lauren (Tess Tregellas), and estranged childhood friend, Barb (Claire Lord), for a girl's weekend. It is intended as a sort of last hurrah at her grandmother's cabin in the woods before the real world comes cruelly calling. No sooner have the girls unpacked than Francis's brother, Hal (Austin Larkin), and his man-child buddy, Terry (Fergie L. Philippe), show up and hijack Francis's femme-centric weekend.
The five eventually get drunk and make the best of things, but not before Hal relays a creepy urban legend about a group of orphaned children that long ago got lost in the nearby woods and resorted to cannibalism. This tale, combined with the grandmother's apparent interest in the supernatural and a strange visit from the weirdo next door, put the friends in a suitably skittish mood heading into the weekend.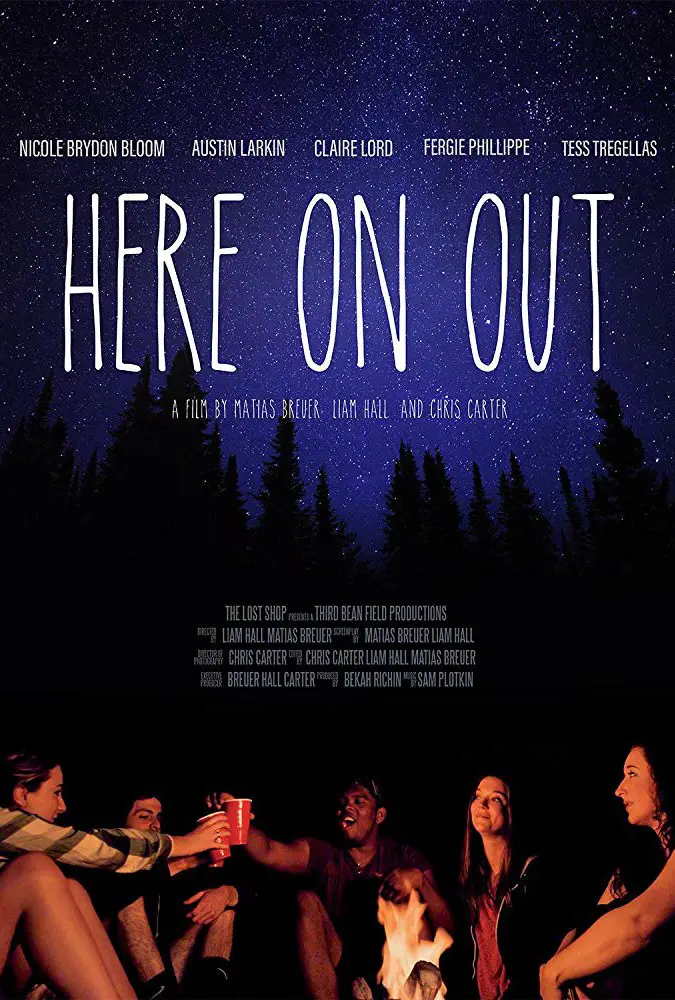 "… isn't your typical dead teenager movie..."