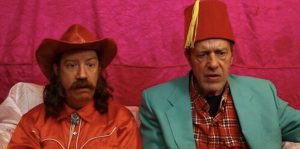 What the f**k? I'm sitting here stunned after watching writer-director Jeffrey Garcia's Henrietta and Her Dismal Display of Affection. I'll warn you right now that if you are easily offended, or not-so-easily offended, you're going to be offended by Garcia's film. Yet there's a rather small speck of admiration I have for this piece of sh…film.
The story is about the McNeely family. They make the Bundys look like the Waltons. While father Mickey (Furly Travis) is at work, mom Kathy (Shauna Nunn) is home watching her two older children, Henrietta (Alice McAllister) and Kevin (Justin Conway). On this afternoon, they are visited by a sailor representing the United Negro College Fund and a slow adult girl named Debbie (Margo Jepson). Kathy has Henrietta and Kevin entertain Margo with games, mostly involving drooling and farting, while the sailor goes down on mom. Soon the family is broken up when Mickey comes home early and catches Kathy and the sailor in action.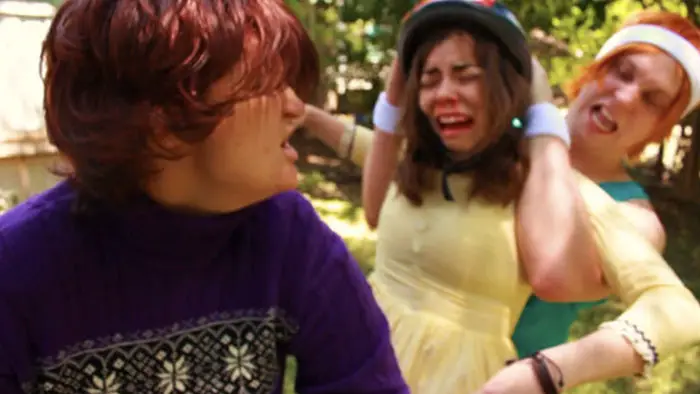 "Kathy has Henrietta and Kevin entertain Margo with games, mostly involving drooling and farting…"
It honestly pains me to go through the rest of the story, but here are a few highlights. With mom away, Henrietta has trouble being affectionate, but her therapist helps by taking her out on a date and getting her pregnant. Uncle Albert (Steve Jones) comes to the aid of his brother Mickey by rubbing the affair in his face and going out with friends to "slay some a*s." Mickey, the sad-sack, is trying to resolve his emotions about the break-up in not-so-healthy ways, and Kathy unsuccessfully sleeps her way to a free divorce. Should I mention even Kevin is pursuing the town slut, Roxanne (Ida Bernstuft)?
I'm going to create an adjective salad to describe this film. Juvenile. Grotesque. Silly. Racist. Misogynistic. Antisemitic. Insulting. Incestuous, Ungodly. Vulgar. Sickening. Ok, I'm back. I suppose one good thing I can say about Henrietta and Her Dismal Display of Affection is that it is relentless. Relentless in the sense that as Garcia's story progresses, every character says and does the worst thing a human being can possibly do in that situation and it never lets up. When Henrietta asks her father how she looks for her date with her therapist, Mickey responds, "You look good enough to f**k!" These sophomoric jokes come at you fast and furious. Clearly, Jeffrey Garcia and crew held nothing back… absolutely nothing!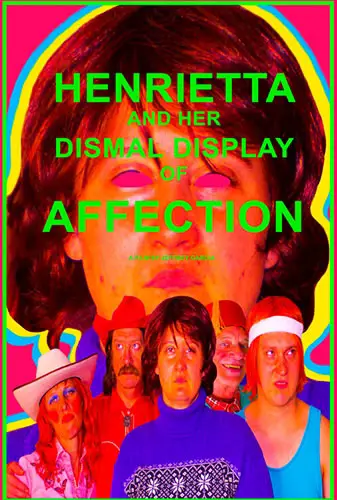 "…It's the closest I've ever come to having Stockholm Syndrome."