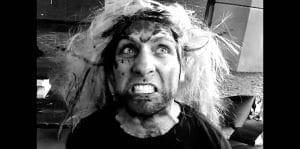 How the f**k do you even begin to review a Troma film? Troma Entertainment has a more than 30-year history dealing in tasteless cinema; from the Toxic Avenger films to Terror Firmer, and even my personal favorite, Tromeo and Juliet, Troma has an audience that just connects with their movies, and you know what? You can definitely count me as one of them. I've loved Troma movies since I caught the heavily edited versions of the first three Toxic Avenger flicks as a kid in the 90's on the USA Network. Lloyd Kaufman's book, Make Your Own Damn Movie! taught me more about filmmaking than my entire year at film school. Still, the question remains; how the f**k do you review a Troma Film? Most of them are made on a shoestring budget with terrible actors and a severe lack of resources, yet they have this blessed charm that makes them so damned entertaining and wacky, you can't help but fall in love with them. They're not going to be bogged down by rules; in Toxic Avenger IV: Citizen Toxie, the Diaper Mafia straight up almost plays piñata with a pregnant woman…and that's one of the tamer things you can find in a Troma film. They're silly, outrageous, tactless, and in their own way, brilliant.
Hectic Knife certainly earns its place within the Troma catalogue; it's insane, fun, hilariously random, and it boldly spits in the face of conventional storytelling. Directed by Greg DeLiso, who shares a co-writers credit with the film's star, Peter Litvin, Hectic Knife is a send up of sorts to the superhero/dark vigilante films we've had throughout the years; you get a ridiculous origin story, a mystic mentor from India, and a supervillain with dastardly plots…Oh, and random bagels, hysterically awkwardly choreographed knife fights, Home Alone movie quotes, and an impressive stop motion animation sequence. Our titular hero (?), Hectic Knife, is a vigilante who can't stand saving people. The film opens up with a woman being attacked by a drug addict, and Hectic Knife saves the day simply because the script calls for it. He finds himself in a love triangle between a girlfriend who imposed herself on him, and his roommate who, for whatever reason, has a British sounding accent. He's a dark, brooding, and conflicted stereotypical action hero with an amusingly terrible wig saving hookers and violently murdering bad guys, and really, that's all about this movie that makes sense. It's damned entertaining, certainly not boring, completely politically incorrect, and it refuses to take anything about itself seriously, and I love mostly everything about it.
Hectic Knife is mostly in black and white, and you won't find state of the art special effects, elaborate shot design, or Oscar worthy performances anywhere near this one, but it did have me saying "What the f**k?" out loud multiple times while I wore a giant grin on my face. It's outrageous and unsystematic, but it is downright infected with undeniable charm. The characters have a very dark and sardonic attitude that made produces a few of the films biggest laughs. It reminds me of Clerks, in a way…not just because of the way it looks, but because of the way it feels; it's just a group of friends coming together to make a movie, and they end up having a ton of fun doing it.
Troma will give this film an audience, and that audience will appreciate this gem of a movie for what it is; something imaginative that puts itself far from the mundane and formulaic studio films that assault our theaters (especially in January). Movies like Hectic Knife will not appeal to the masses, and in my opinion, it makes it all the more special. This is a film for the freaks and the misfits that are "in" on the joke, so much so that it no longer becomes a joke; it is now counterculture and a break from the staleness of normalcy.
If you're in the mood for something inane, gory, brutal, disgusting, and downright crazy, find this movie. It's perfect for watching with a group of your friends who appreciate B-movies.
Hectic Knife (2016) Directed by: Greg DeLiso. Written by: Greg DeLiso and Peter Litvin. Starring: Peter Litvin, Georgia Kate Haege, J.J. Brine, John Munnelly
8 out of 10