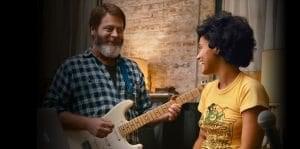 Something so familiar can be so sweet and effective, as proven by Hearts Beat Loud. Director Brett Haley (I'll See You in My Dreams and The Hero) builds a story around familiar themes of loss, coming of age and questions of what's next? while creating a charming story about a father and daughter and the bond that keeps them together and eventually pulls them apart.
Haley's films often give the spotlight to a beloved character actor, who rarely gets their leading moment. In I'll See You in My Dreams, he did this for Blythe Danner and The Hero gave Sam Elliot a great, late-career starring role. In Hearts Beat Loud, Nick Offerman is front-and-center as Frank, who had a music career once upon a time. Now, he runs a Red Hook record shop, where he mostly spends his days thinking about and writing music, while occasionally flirting with his landlady (Toni Collette).   
"…she's headstrong but still a kid just trying to find her way.."
Frank's wife died some years ago and he has been raising their daughter, Sam (Kiersey Clemons), on his own. They have a strong relationship, despite Sam getting annoyed with her father, who doesn't always take her efforts to go to medical school seriously. At times, she is the adult of the two, lecturing him about budgets and day-to-day tasks that need to be done. Frank, simply put, wants to rock. He wants to relive his glory days of playing music professionally and he wants to do that with his daughter. Sam is musically talented but almost entirely uninterested in creating music with her father outside of their apartment.
Despite Sam's demands to keep their music between them, Frank uploads one of their songs to Spotify and it takes off a bit. Frank is having a taste of his musical life again and wants more. Sam shuts it down, but Frank persists. There are many reasons why Frank is so adamant about starting some form of a music career with his daughter. Haley unfolds everything in such a lovely, simplistic manner.
In a rare leading man role, Offerman exudes charm and charisma in a performance that shatters his Ron Swanson image (said as a devout Parks and Recreation fan). He brings such a warmth and vulnerability to Frank, which makes him feel real at every turn of the movie. Clemons graduates from familiar face to full-fledged star as Sam. She is juggling so much in her young life, from taking care of her father to a blossoming relationship (with American Honey's Sasha Lane). She's headstrong but still a kid just trying to find her way.
"…Offerman exudes charm and charisma in a performance that shatters his Ron Swanson image…"
There rarely feels like anything extreme is at stake in Hearts Beat Loud but everything about it is so light and endearing, Haley makes us care about Frank and Sam and their journey together and apart. Offerman and Clemons have terrific chemistry as father and daughter while making some catchy music. Hearts Beat Loud is a wonderful little crowd pleaser.
Hearts Beat Loud (2018) Directed by Brett Haley. Written by Brett Haley. Starring Nick Offerman, Kiersey Clemons, Blythe Danner, Ted Danson, Toni Collette and Sasha Lane. Hearts Beat Loud premiered at the 2018 Sundance Film Festival.
Grade: A-