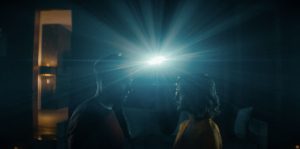 Movies are often greenlit solely on a great pitch or idea. BenDavid Brabinski's Happily starts with a fantastic idea, and soon the stark realization comes in that excellent stories really need strong endings.
I enjoyed the first half of this movie very much. Its brilliance comes in the idea that Janet (Keery Bishe) and Tom (Joel McHale) are the perfect married couple. Their friends hate them vehemently because they're so flawless, and rightly so, Janet and Tom can't understand why they are loathed so much. The comedy comes in the idea that the perfect couple has to interact with imperfect (aka normal) couples.
Like any good set-up, this has to lead to a good ending. It comes with Stephen Root as Goodman and the idea that this may be a Matrix-like anomaly, which leads to a murder committed by Janet and Tom. OK, I'm buying the thriller aspect of this story. Then it all jumps off the rails. The final resolution feels unsatisfying. Some might interpret that as a film "wasting our time."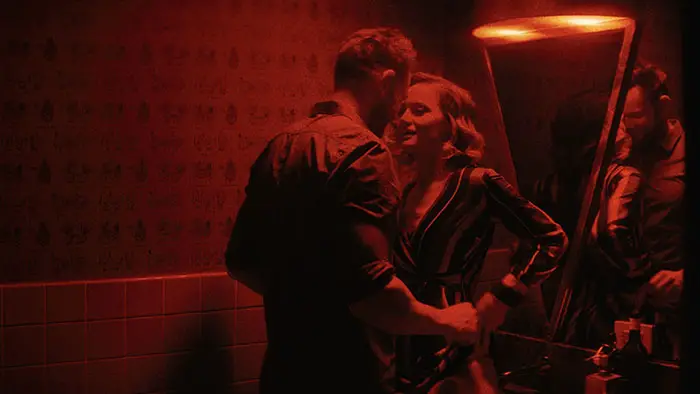 "…a Matrix-like anomaly…leads to a murder committed by Janet and Tom."
At this moment, it gets to be a little too wacky, which means it's unrelatable. Then we get to an ending that just feels forced. In other words, "let's just end this thing." It's as if the fun was all in writing the first act, and then writer/director Brabinski couldn't stick the landing or even figure how to land the darn thing. This is the same feeling I have about Independence Day. The first half of the movie is light years better than the second half.
I think the most significant problem in Happily is that as horrible things happen, such as the killing, it never feels like it's handled seriously. Still, in a way, we associate with silly comedies. The ending then lets everyone off the hook, almost as if it didn't happen.
Happily boasts a fantastic cast of contemporary comedians. Joel McHale is excellent as the perfect husband. Stephen Root shines in everything he does. Let's not great the great supporting players, including Paul Scheer, Al Madrigal, Natalie Zea, Natalie Morales, Breckinridge Meyer, and Charlene Yi. But that's just not enough. The only reason to see this film is if you're a fan of any of the actors. Everyone is good, but ultimately, the story will let you down.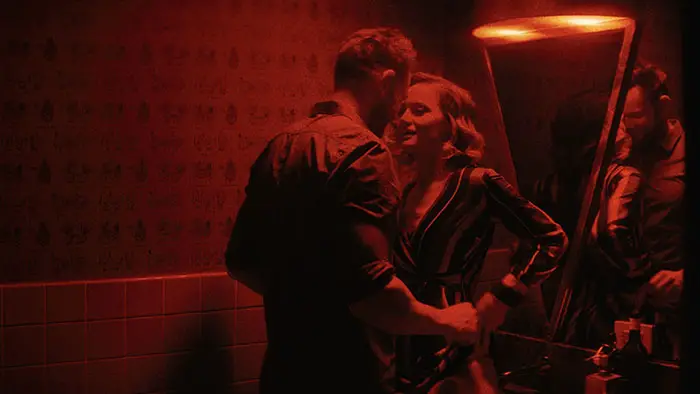 "…boasts a fantastic cast..."