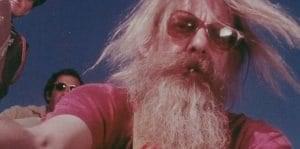 It feels strange – and probably inaccurate – to say that Hal Ashby is an underrated director. Both at the time of their release and right into present day, his films were some of the most celebrated works of the 1970s, arguably cinema's most prolific revolution. From Harold & Maude to The Last Detail to Shampoo, Ashby directed several seminal films that directly influenced filmmakers who, as a result, went on to make their own iconic additions to the world of cinema. Still, outside of film fanatics, Hal Ashby isn't a household name. Hal, the latest documentary from Amy Scott (like Ashby, an editor-turned-director), aims to change that.
Many viewers walked into a Hal Ashby movie not knowing quite what they were getting themselves into, and nearly all of them walked out of the theater with even more questions than they had going in. With seemingly limitless access to the Ashby estate, Amy Scott has pieced together archival footage in order to try and answer some of those burning questions. Before the rise of home video gave way to behind-the-scenes featurettes, there wasn't much (beyond mere hearsay) known about the movie productions of the era, so Scott has curated a collection of artifacts helping to probe the mind of this oft-overlooked visionary and better understand his life's work.
"…shown Ashby's belief in the responsibility of an artist to call out society's failings."
Much of what we learn over the course of the documentary is purely anecdotal. Scott doesn't spend much time on Ashby's personal life, even though he was notably married five separate times and the stories of his aggressive tendencies are well documented. Hal relies heavily on talking head interviews, mostly to the film's advantage. We hear Warren Beatty fondly reminiscing about his fallen colleague and Judd Apatow gushing over the influence Being There had on his own career.
However, we are shown Ashby's belief in the responsibility of an artist to call out society's failings. Upon accepting the Academy Award for Best Film Editing for his work on In the Heat of the Night, Ashby used his memorably brief moment in the spotlight to preach the gospel of kindness. As he went on the direct, he constantly tackled the touchy subjects of the time, from racial inequality to political satire, through his irreverent sense of humor and his deep love of people. The process of editing forced him to analyze the subtle nuances of each take, giving him ideas for improvement. He would carry this view over into all other aspects of his life.
Shortly before the independent film boom (which surely would have embraced him with open arms), Hal Ashby lost his battle with pancreatic cancer in 1988. Scott speckles in footage from his heartfelt memorial service, and we truly feel the void he left in his absence. Hal is a loving tribute to a filmmaker who rarely gets the attention he deserves. It's all too easy to forget that he was included in the same conversations as Scorsese and De Palma during his heyday. This charming documentary excels at exploring why Ashby fell into relative obscurity, as well as making the argument for why he is an artist worth celebrating.
Hal (2018) Directed by Amy Scott. Starring Jane Fonda, Judd Apatow, Dustin Hoffman, Jeff Bridges, Beau Bridges, Rosanna Arquette, Lou Gossett Jr., Lee Grant, Norman Jewison, Ben Foster, Jon Voight
7 out of 10