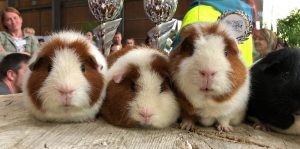 Cute and delightful are probably the best words to describe Guinea Pig Diaries, just like the subjects themselves. If you don't know anything about guinea pigs, you will learn a great deal after watching this documentary helmed by Olympia Stone and Suzanne Mitchell. You'll either want to get one, but really two because they are very social beings and need company, or you will have zero desire for them.
What is it about these animals that the world loves? Perhaps, it's their small, likable bodies and easy temperament or the many types of guinea pig coats with mixed colors and some with mono color coats as well as some that are hairless. They also have a range of eye colors. In addition, they are small enough to travel, and they are somewhat easy to care for, not to mention lovable with little to no dissatisfaction. They communicate with each other and their owners, and they are happiest with a guinea pig companion, sometimes even rabbits. I learned all this and a bit about human behavior and guinea pigs in this documentary that spanned the globe with interviews and some basic animation, and a few key people.
Stone and Mitchell traveled to Europe and throughout the U.S. and ferreted out people, stories, and hundreds of guinea pigs to assemble an homage to these adorable creatures who give many people an outlet and the ability to share compassion for animals. For the many owners and caretakers depicted throughout Guinea Pig Diaries, the caring of guinea pigs is a hobby that brings them a great deal of joy. For some, the care and comfort of these animals is a type of therapy.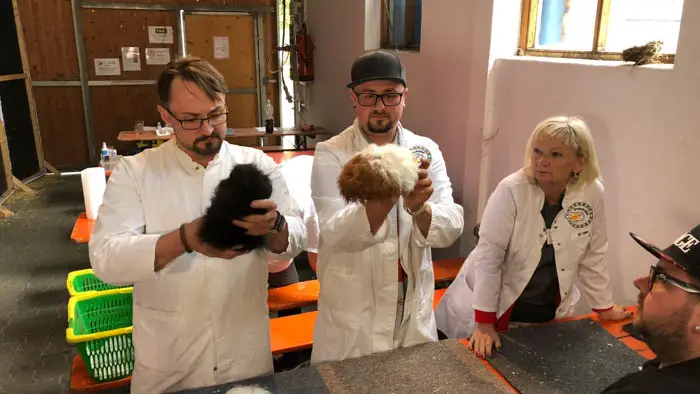 "…experts weigh in on guinea pigs and their effect on humans…"
Small animal experts weigh in on guinea pigs and their effect on humans as well as other guinea pigs—who knew? However, the documentary recognizes some extreme situations because guinea pigs multiply quickly and often, meaning they can easily overpopulate. In addition, people do become guinea pig hoarders, which is human nature when something becomes an obsession. The directors present several guinea pig experts, breeders, shelter workers, and more to offer an understandable truth for those obsessed with these creatures—and there are many.
However, bizarre but fascinating, the Guinea Pig Diaries provides up close and inside the many types of homes built and created to house guinea pigs ranging from two to thousands, from all-out guinea pig condos and large pens to full rooms and enormous spaces with a variety of structures and in-and-out areas. The amount of consideration placed in the housing of guinea pigs is just as extreme as some of the film's featured men and women who own them, especially those who breed them. As for the housing in guinea pig shelters and rescue homes, this is another world of its own.
Guinea Pig Diaries presents a larger, global picture of love for many humans who have guinea pigs. From guinea pig shows to rescue shelters and homes to collectors and compassionate owners, Guinea Pig Diaries brings together a worldwide passion for these squeaky, lettuce-eating creatures. There's much to learn from this film about being a responsible guinea pig owner and/or lover, as well as the many guinea pigs who are pets throughout society and the world.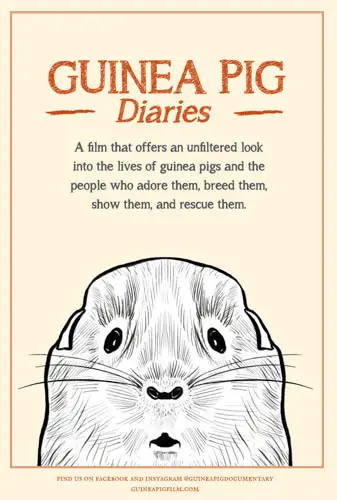 "…brings together a worldwide passion for these squeaky, lettuce-eating creatures."