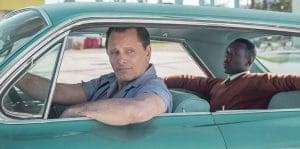 Still, my main complaint is that once you know the setup and how Hollywood movies work, you know almost beat by beat how the film will play out.  
"Sometimes the characters have no choice but to suffer..."
I can't help but note that the director and all three writers are white (Vallelonga, Farrelly, and Brian Hayes Currie).  There were many black folks involved in the production, including Octavia Spencer who is an executive producer but does not act in the film.  I have no particular complaints that these writers got anything wrong, though I'm not qualified to properly judge the black experience (I did grow up in the South and I can at least vouch for the fact that they got the racism right).  My point is just that I long for the day when every Hollywood film about the black experience has at least one black writer.
The usual thing in movies about racism is that characters learn to be less racist by befriending someone from another race.  That's all well and good, but it doesn't address systemic racism. Refreshingly Green Book does that in that the main antagonist is the system itself.  The characters here deal with humiliation after humiliation, and usually, there's no "Hollywood solution," like just punching your way out of danger.  The danger is ever-present and all around you. Sometimes the characters have no choice but to suffer.
I'm not sure Green Book will make my top 10 list of films for the year — it is an exceptionally strong year.  Still, it is an important movie and a fun one too. That's such a rare combination that you owe it to yourself to see it.
Green Book (2018) Directed by Peter Farrelly. Written by Brian Currie, Peter Farrelly, Nick Vallelonga. Starring Viggo Mortensen, Mahershala Ali, Linda Cardellini.
Rating: 9/10