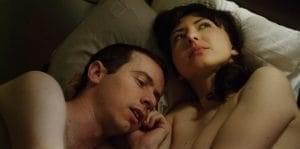 Great, Great, Great is a very contemporary film following Lauren (Sarah Kolasky), a 30-year-old woman navigating life after learning about her parent's very amicable divorce (they are still roommates!). She lives with her long-time boyfriend, Tom (Daniel Beirne), but is somehow unsatisfied or bored by their monotonous existences and is not sure if she wants something more, something different or if she is just afraid to end up like her parents.
Things will take a dramatic turn for Lauren when David (Richard Clarkin), an old — and older — flame, becomes her new boss and tries to win her back; maybe this is what she needs. At first, reluctant to his advances, she quickly lets herself fall, again, for this man who somehow is the opposite of current boyfriend Tom and who might also bring a sense of excitement back in her life. Despite their engagement and deciding to retake control of her life, Lauren is unable to stop the ongoing affair making things messier and more complicated as she has to lie to everyone: her family, friends, colleagues and, of course, her fiancé.
In this realistic "slice-of-life type" feature, we also get to learn more about Tom, which offers an interesting insight into the life of young adults in this day and age. He is a seemingly lovely and stable guy but as he is desperately looking for an urban planner position (something he is good at, but unfortunately not enough to get a job). We see him going through the motions of keeping faith or dignity in spite of feeling like a loser in the eyes of everyone, especially Lauren.
"…unable to stop the ongoing affair making things messier and more complicated…"
After being "accused" of not being invested enough in his career over playing with Legos at home, Tom decides to spend more time at the gym to boost his confidence and tries to appear as active as possible, so his girlfriend would not think less of him.
All the characters populating Great Great Great are neither too happy nor particularly unhappy, they are just the products of their environments and trying to find a purpose. One thing for sure, the acting is solid elevating the realism of the film, making all scenes seem genuine and unforced. The film is also quite cleverly in not taking sides and painting this realistic "picture" like it is. Nobody is vilified for their doings, undoings, or not doing anything at all.
Great Great Great has a "New York low-key hipster neo-realist" feel of films distinguishable by stories filled with ordinary slightly bland, flawed (and almost always white) people wandering through life and interacting with anything/anyone with touches of awkwardness, or characters embodying a certain type without falling hard into clichés. And although it is not set in New York, but Toronto (we don't often see these types of decently made indies actually taking place there), this style is quite fitted here as it tells a universal story of city dwellers that will resonate with many.
"…profoundly relatable and few situations might feel strangely "too real" for some facing similar predicaments."
The general mood and feeling emanating from the story is profoundly relatable and few situations might feel strangely "too real" for some facing similar predicaments. Despite being quite uneven in the beginning before finding its rhythm (after a pointless lengthy macaroon-making scene!) and a rushed ending leaving viewers as clueless and doubtful as its characters; the film is coherent, well-thought and narratively satisfying.
Although Great Great Great might not be as gripping and memorable as its name indicates, it manages to uniquely capture the essence of the lives of middle-class young adults trying to come to terms with the fact that their journeys will be very different from their parents' and that nothing is as easy it seems in this trying time.
Great Great Great (2019) Directed by Adam Garnet Jones. Written by Adam Garnet Jones and Sarah Kolasky. Starring Sarah Kolasky, Dan Beirne, Richard Clarkin.
5.5/10