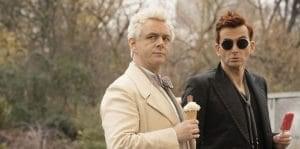 Neil Gaiman has long been one of my favorite authors, ever since I first laid eyes on his magnum opus, the graphic novel Sandman. From ancient mythology and existential musings to Shakespearean prose and the subversion of comic book archetypes, Sandman encompasses an awe-inspiring plethora of themes. Gaiman somehow managed to tell it all from – get this – the perspective of anthropomorphic representation of our collective dreams, referred to by many names (mainly Morpheus). Sounds like heady stuff – and it is, yet his presentation is playful and never forced as if he had this entire gargantuan web of metaphysical musings woven inside his mind the entire time, and he simply threaded it out. I had never read anything like this before, a literary piece this earthly and divine, so uncanny and beautiful, utterly confident and beautifully fragile, deeply steeped in fantasy yet as lucid and real as a slap on the cheek (Mikhail Bulgakov's enigmatic and controversial Master and Margarita comes to mind).
While a plethora of Gaiman's books has been adapted to the screen with varying degrees of success (Coraline, Stardust, Starz' American Gods), Sandman's long been in development hell. Countless filmmakers have approached the project, both as a potential TV series and film, but none possessed the prowess (read: balls) to tackle it (it's currently listed on IMDB as "in pre-production"). Having seemingly put this project on hold, Gaiman went ahead and adapted Good Omens: The Nice and Accurate Prophecies of Agnes Nutter, Witch – his comedic/apocalyptic collaboration with fellow English author Terry Pratchett (who passed away in 2015).
Nominated for the prestigious World Fantasy Award, the book was co-written by Gaiman in 1990 while he was busy working on Sandman – talk about a creative streak. When I first heard that the author was penning all of the mini-series' six episodes, my excitement levels grew exponentially – but when I found out about its lead stars, they skyrocketed to the heavens. Truly, I can't think of a more inspired, explosive pairing than the master of sex, Michael Sheen, and Doctor Who himself, David Tennant, playing the novel's protagonists, angel Aziraphale and demon Crowley. Plus, any show that features Benedict Cumberbatch as Satan gets a pass in my book.
"…baby-switching occurs in a nunnery, wherein the Antichrist is mistakenly handed to a suburban couple…"
From the get-go, Good Omens establishes its tongue-in-cheek tone, instantly rejecting all of our established theories regarding the specific time of the Universe's creation. "The Earth is a Libra," Frances McDormand's God narrates, over a spectacular opening montage. "It starts, as it will end, with a garden," she then declares, as we swoop over endless desert vistas into a secluded emerald paradise. It's the Garden of Eden, where faithful Aziraphale and mischievous Crowley – representatives of Heaven and Hell on Earth – banter about God's Plan. The former reluctantly confesses that he gave away his sacred flaming sword to the apple-loving Adam and Eve (we see the two in the distance, bashing a lion with said sword).
Cut to: present day. True to the novel, our two celestial frenemies are comfortably settled in London, when they get word of the impending Armageddon. A basket containing a golden-haired male child is brought to Crowley – it's the "dark-lord-to-be," "The Adversary, Destroyer of Kings, Angel of Bottomless Pit, Prince of This World and Lord of Darkness." Some funny business involving baby-switching occurs in a nunnery, wherein the Antichrist is mistakenly handed to a suburban couple, Deirdre and Arthur Young (Sian Brooke and Daniel Mays), instead of the intended politicians Harriett and Thaddeus Dowling (Jill Winternitz and Nick Offerman), who work closely with the U.S. president. The Lord of Darkness is consequently raised as Adam (Sam Taylor Buck) in the English countryside, while Warlock (Samson Marraccino) grows up in the White House, under close observation from both Heaven and Hell.
In the meantime, Archangel Gabriel (an irreverent Jon Hamm) visits Aziraphale and tells him that "things are afoot," and he needs to keep Crowley under close observation. Neither of our heroes is too pumped about the prospect of "eternity," so they devise a plan: keep playing their roles – with the demon luring the child into darkness, and the angel thwarting his plans – with the predetermined outcome of the angel winning. As years go by, they report back to their demonic/heavenly headquarters about the status of the child – until the mistaken identity is revealed days before The End, and the search for the real "Adversary, Destroyer of Kings, Angel of Bottomless Pit, Prince of This World and Lord of Darkness" begins.
To avoid recounting all six episodes of the Amazon Original mini-series, which is so stuffed with characters, themes, and references, it would take (p)ages. I'll just focus on some of the highlights. There are the Four Horsemen of the Apocalypse – War, Famine, Pollution and Death – on a mission to ignite said doomsday. Adam adopts an initially-fearsome Hell Hound, whom he calls Dog, and who gradually learns to shed his evil roots. There's the notorious witch Agnes Nutter and her much sought-after "holy grail of prophecy books." A witch-finder who calls himself Sergeant Shadwell (a splendid Michel McKean) leads a non-existent army against evil witches, and ends up getting crucially involved in the main quest, as does occultist Anathema Device (Adria Arjona). There are UFOs and aliens, the Kraken and a burning M25; there are massive tornadoes that consume all in their path, and radiation that magically morphs into candy. All of this organized chaos leads up to a final grandiose encounter with the Devil, and the ultimate judgment of our hapless protagonists by their respective parties.
"Good Omens is a farce, a cheeky lark, as stylish as it is stylized, macabre and endlessly inventive. It moves like a demon in a burning car."
Arguably, none of this would gel without the formidable leads. Michael Sheen, one of our most versatile actors, conveys Aziraphale's reticence and benevolence, but with a penchant for mischief – as well as sushi, magic acts, bowties, and a certain kind of dancing that's too uproarious to reveal here. Tennant does a splendid job as Crowley, a live-wire that brings to mind Sam Rockwell at his best; he dances on the screen (often quite literally, to his favorite Queen), flaring his cat-like eyes, and you can't take your eyes off him. Together, they anchor the show, grounding each of its wild turns with warmth, poignancy, and wit. Director Douglas Mackinnon, who's had his experience in directing TV shows including Doctor Who, helms all six episodes with the assured hand of a veteran, working symbiotically with his writer.  
Which leads me to Gaiman's elegant script, elevating the show above the rest with its spellbinding passages, boundless imagination and quotable lines. "I do not sully the temple of my celestial body with gross matter," Jon Hamm's Gabriel says in disgust. "I didn't really fall," Crowley says of his origins, "I just sauntered vaguely downward." "Armageddon starts today," Aziraphale proclaims, "just after teatime." (Of course.) The list goes on and on: "They came here to spoon, and on one memorable occasion, fork." "Silence holds the bubble of the world in its grip." One of my favorites may be God's clarification: "It may help to understand human affairs," She says, "to know that most of the great triumphs and tragedies of history are caused not by people being fundamentally good or fundamentally bad, but by people being fundamentally people."
But it's not just the dialogue that soars; Gaiman devises unexpected, charming surprises in almost every scene. Disguising themselves as nanny and gardener, our heroes become godfathers of sorts to the young Adam in a hilarious early sequence. A highly diverting flashback in the third episode traces their turbulent relationship from Noah's ark, through Jesus' crucifixion, the Medieval times, a Shakespearean performance, a French execution, finally settling in London during WWII, where they get involved in a side-splitting double-crossing charade. Other highlights include the burning of the resolute, supremely collected Nutter witch; Crowley's shivering, terrified plants; a corporate paintball battle gone bad; and the rising of Atlantis. Oh, also: apparently, gravlax in dill sauce, little froufrou cocktails with umbrellas and bookshops are all spawns of Satan. Just in case you didn't know.
Sure, there's some shoddy support from the show's young cast – particularly Adam's blank Antichrist, as well as a few middling, weirdly amateurish, half-finished sequences. But, like the humans and divine beings it depicts, it can't be all perfect, right? With echoes of Mikhail Bulgakov and Douglas Adams, Good Omens is a farce, a cheeky lark, as stylish as it is stylized, macabre and endlessly inventive. It moves like a demon in a burning car. Most importantly, it's quintessential "Gaiman," effortlessly juggling a dozen storylines with clarity and wisdom. Perhaps Mackinnon and Gaiman can take a stab at adapting Sandman next.
Good Omens (2019) Created by Neil Gaiman and Terry Pratchett. Directed by Douglas Mackinnon. Written by Neil Gaiman. Starring Michael Sheen, David Tennant, Frances McDormand, Jon Hamm, Sian Brooke, Daniel Mays, Sam Taylor Buck, Miranda Richardson, Brian Cox, Adria Arjona, Paul Chahidi, Ned Dennehy, Mireille Enos, Anna Maxwell Martin, Nick Offerman and Benedict Cumberbatch as the voice of Satan.
9 out of 10