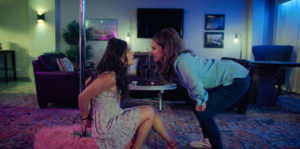 CINEQUEST FILM FESTIVAL 2023 REVIEW! Nicole Gomez Fisher brings together two great tastes that taste great together with infertility and the mafia underworld in her comedy feature, Good Egg. Jessica (Yara Martinez) is just about to turn 40, and the prospects for her and her husband, Gordon (Joel Johnstone), do not look bright. Realizing that the chances of having a child are bleak, Jessica and Gordon look into extremely untraditional methods to start a family… and our adventure begins.
As for Gordon, he is about to hit his mid-life crisis and looking for advancement at his banking job. Unfortunately, his somewhat shady boss, Dustin (Gopal Divan), says he just doesn't have the personal confidence worthy of a promotion. However, if Gordon fixes Dustin's laptop for a secret project, he'll get the promotion. It all seems simple until the FBI turns Gordon into an informant against Dustin.
The third member of the triangle is Bridget (Andrea Londo). Her boyfriend, Sal (Nick Creegan), is shaking her down for the money Bridget stole from his boss, Nick (Joseph Melendez). While Bridget is being threatened, Jessica happens to pass by and take on the attackers, which doesn't go so well. Somehow the two manage to escape, and after catching their breaths, Bridget tells Jessica that if she gives her the money she needs to be done with Sal, Bridget will give Jessica a few eggs to start a family.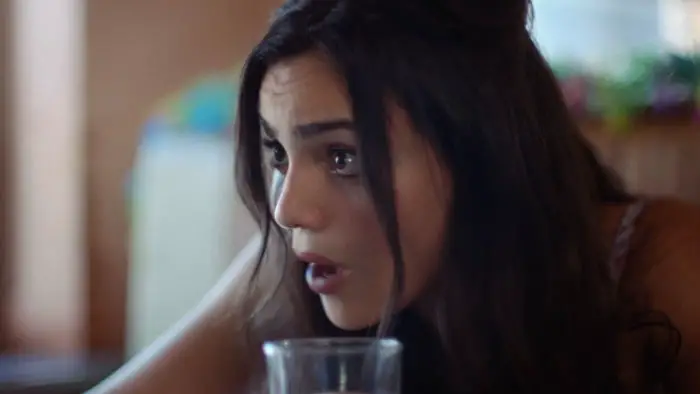 "…Jessica and Gordon look into extremely untraditional methods to start a family… and our adventure begins."
So let's manage expectations. Good Egg is a low-budget comedic thriller by writer/director Fisher. The overall tone is light, especially regarding the life-and-death stakes our protagonists are dealing with. Did I mention that Gordon is an amateur magician?
Regarding the action, the film manages to weave in and out between realism and absurdity. The story puts our heroes in just enough real danger to find a not-so-serious way to get out of their numerous predicaments. How does an unarmed Jessica with a cast on her foot escape two thugs with guns? She doesn't. There are just bits of realism like this that keep things from running off the track into utter silliness. Of course, smart moves like this don't happen very often.
Again, managing expectations, Good Egg is ultimately a love story between Jessica and Gordon, going to extreme lengths to have a child. Both walk down separate though unusual paths that ultimately intersect in the end toward a feel-good moment of marital bliss. Yara Martinez, Joel Johnstone, and Andrea Londo are wonderful in their roles as the leads.
Nicole Gomez Fisher's Good Egg embraces its silly fun. It's not high cinema by any stretch, but it will easily find a place in the Lifetime and Hallmark space of feel-good romances. And yes, it'll even fit in with those who love mafia stories. Consider this a nice sit-down movie with the one you love.
Good Egg screened at the 2023 Cinequest Film Festival. For screening information, visit the Good Egg official website.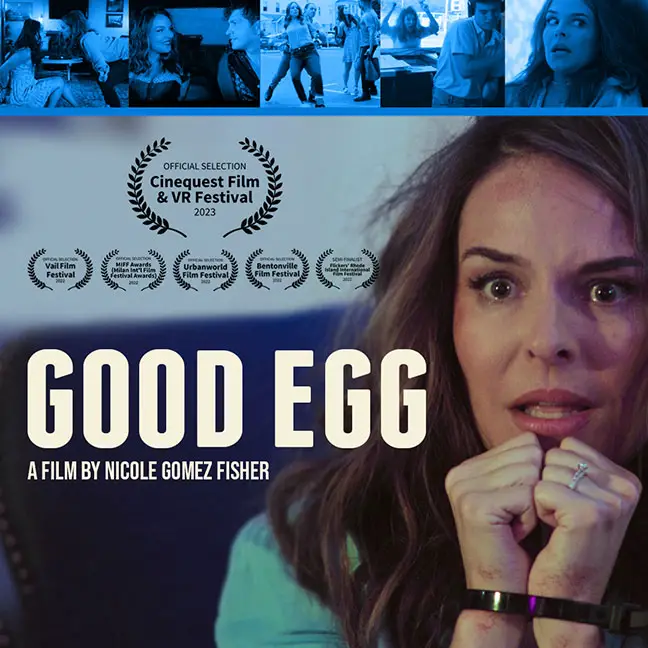 "…embraces its silly fun."