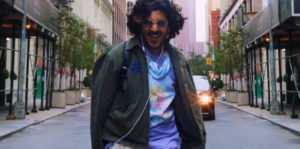 Any debut feature can ignite a filmmaker's career while simultaneously clueing them in on what worked, what didn't, and how to tackle future projects. Daniel Antebi's first feature-length comedy, God's Time, is creatively unbound. The writer-director's consistency in intertwining a plethora of stylistic flourishes feels both inspired and excessive. But, all things considered, this is a solid, not to mention thoroughly entertaining, effort.
God's Time is set in New York City and follows Dev (Ben Groh) and Luca (Dion Costelloe), a bubbly pair of actors and recovering addicts. They are also best friends who regularly attend recovery meetings and casting auditions together. However, their friendship takes a slight hit after Dev and Luca develop a mutual fondness for Regina (Liz Caribel), a fellow recovering addict with a bone to pick with her ex-boyfriend (Jared Abrahamson).
It's a common occurrence at every meeting that an embittered Regina claims to have the urge to kill her ex-boyfriend. Still, nobody takes her seriously, especially when she ends with a hokey spiritual remark, "In God's time." However, one day, Dev notices that Regina doesn't end her monologue with "In God's time," causing him to suspect that she is going to murder her ex-boyfriend for real. The friends then venture through NYC, hoping to stop Regina from committing a crime.
Dev and Luca's journey is hindered by wacky detours, infiltrating a house under the guise of somebody else, and being chased out of a meeting. Wherever they go, a prying camera documents the unfolding chaos with whip pans and ominously framed close-ups. The movie is prone to fourth wall breaks and distortion. There are a few too many instances where Dev speaks directly to the audience in his droll, overinflated delivery. But the meta scenes, for the most part, align with the character's concentrated obsession to deter a crime that may not even happen.
"…venture through NYC, hoping to stop Regina from committing a crime…that may not even happen."
But God's Time is much more than an offbeat, slapstick comedy. At its core, this is a story of addiction and self-reflection about people struggling to overcome their worst tendencies. Antebi succeeds most when not relying on gimmicks or splashes of artifice and focusing on the whirlwind of emotions the characters reluctantly confront. The complicated relationships between Dev and Luca, Dev and Regina, and Luca and Regina are thoughtfully explored, broaching how love can be entangled with obsession or how one's love for another can take shape as unrequited devotion. Or it could just be that addiction or obsession is clouding somebody's judgment, driving them to say or do something they will regret.
Dev and Luca's friendship is pushed to the limits. Dev is blindsided by his buddy's affection for Regina, while Luca is frustrated by Dev's selfishness and recklessness. Groh and Costelloe give wonderful performances, fortifying a rowdy yet believable bond that builds to a thrilling confrontation. Howbeit, the motion picture would have benefitted if the filmmaker permitted the aftermath of this confrontation to simmer longer. Still, in the scenes broaching the subject of inner change, the leads give it their all as people prone to self-destruct, be it internally or externally. All the actors deftly handle the humorous and dramatic facets of the picture with strong, rapid-fire delivery.
In a similar vein to a Safdie brothers thriller, this takes full advantage of the city as the bustling and urban setting that it is. Antebi seeks out appropriate locations like a parking garage, crowded streets, and grubby apartments, using these spaces to signify a shift in mood. The attractively feverish camera movements capture it all quite well.
Antebi resists the temptation to supply a simple, idealistic solution to achieving sobriety, an ongoing process that takes time and effort. Instead, he untangles the struggles of addiction and the road to recovery with a dose of levity and absurdity. He thus renders it easier for the viewer to latch onto the high-energy, albeit overly confident cinematic machine that is God's Time.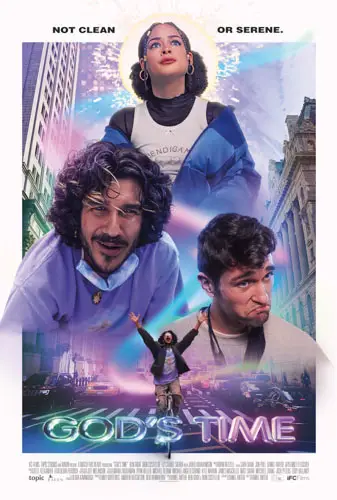 "…attractively feverish camera movements..."