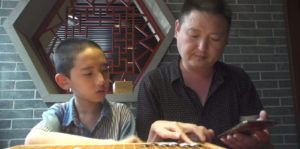 Guanglin Yu is an 11-year-old Go prodigy living in mainland China. However, Guanglin's skill in the classic strategy game is unique because he is almost entirely blind. After placing second in a significant Go tournament, Guaglin's single father sees him as a potential means to support the two by becoming a pro-Go player. Director Yunhon Pu's Go Through the Dark documents the pair's struggle to find an affordable Go teacher to bring Guanglin into the pros, all while chronically the relationship between a son and his possessive father. 
The film centers on Guanglin's struggle to be a Go professional, provide for his father, and attempt to be a normal 11-year-old kid. After gaining national notoriety for his abilities, Guanglin gains an invitation to a small academy and begins his journey toward greatness. But when a possibility for Guanglin to be cured of his blindness presents itself, his father worries that being able to see will mean he's no longer unique within the Go community. As the father and son move from Go academy to Go academy, many begin to see the exploitative nature of Guanglin's father as the harmful dynamic behind the scenes of this seemingly supportive parent and his child comes to light.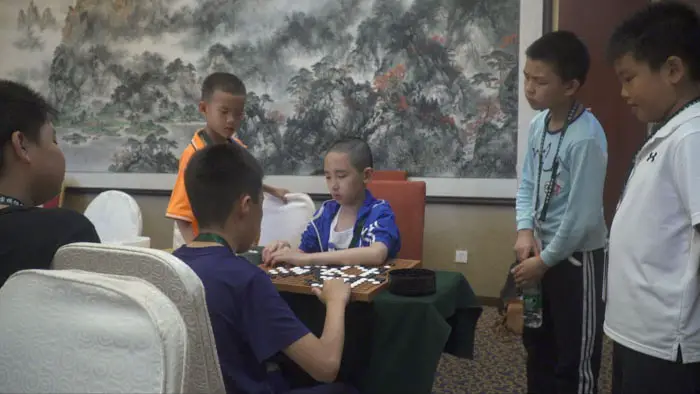 "…centers on Guanglin's struggle to be a Go professional, provide for his father, and attempt to be a normal 11-year-old kid."
Go Through the Dark is a very fly-on-the-wall documentary. The movie offers few interviews or talking heads but focuses on Guanglin's progression in Go and his father's harsh standards. Pu does an excellent job establishing Guanglin's narrative and depicting a seemingly caring father before diving into abuse and manipulation. It's hard to watch and offers little in terms of closure. Viewers are provided a little solace in witnessing Guanglin improve at Go. However, this is no inspirational story of heroism; the story is a harsh reality check from start to finish. 
Those unfamiliar with Go will find parts of the narrative confusing or dragging. The film offers little background on the game or much information on its mechanics. While the lack of talking heads can give the documentary a natural approach to conversations or the choices made by Guanglin's father, watching Guanglin play Go for lengthy periods without context can cause viewers to disengage. Ultimately, the lack of context, whether in playing Go or people's choices, divides the plot. You want to root for Guanglin to succeed but simultaneously want his father to fail. However, their goals are presented as being the same.  
Yunhon Pu shows a lot of promise as a documentary filmmaker. She has a great subject in Guanglin and never shies away from the messy truth of Guanglin's father. She also never loses sight that Guanglin is a kid trying desperately to provide for his single parent. And even when his father is manipulative, exploitive, and cruel, she shows how Guanglin's father deeply believes that Guanglin is his best shot to escape poverty. Some of the faults can be forgiven or even praised as stylistic choices, but the abrupt ending leaves many loose ends for such a personal production. Even still, Go Through the Dark is a compelling narrative, and Guanglin will win your heart. But at only 80 minutes, we need more to round out the story or some time devoted to Guanglin's future.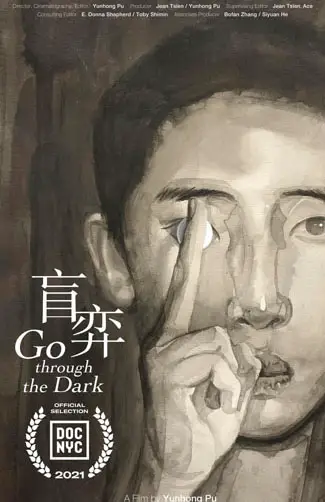 "…never shies away from the messy truth..."