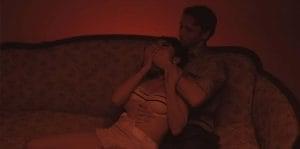 I'm just going to warn you now, Thegin German and Robert Rowland's Girls Guns and Blood is not a film for the politically correct and those sensitive to the exploitation of women and violence. If that's you, then stop here and walk away because you are not going to like this film and nothing said will change your mind.
As the title suggests, Girls Guns and Blood alternates between scenes of hand-to-hand violence with scenes involving some of the best breasts money can buy. There is also a very loose story that holds this blood and boobs shish kabob together. And yes, "Gratuitous" is also a word that would best describe said blood and boobs.
Our film, written by Jeff O'Brien and Robert Rowland, follows three storylines. First, we open with Vixen (Cherie DeVille) rising magnificently topless from the swimming pool of a gangster known as Kaiser (Woody Almazan). Kaiser is met by a masked ninja…of sorts…who lost his money from a rival gang. Kaiser then engages in a mildly amusing sequence as Vixen is upset the cash is gone making her feel like "her period is coming."
"It will be enough money to close the brothel down for a few weeks and allow the girls to go on their dream vacation to Oklahoma…"
Then there's the rival gang who stole Kaiser's money led by Jamie (James W. Evermore). Jamie and his thugs decide to take their cash and buyout for the night a local brothel run by Monique (Rebecca Love), so his gang can party and execute a more devious plan.