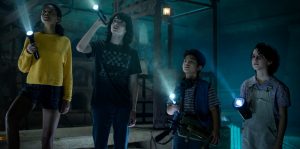 The most interesting discussion about Jason Reitman's Ghostbusters: Afterlife is talking about precisely what it is. As much as it is technically a sequel to the 1980s Ghostbusters, it's a very different movie, tonally. However, the connection to the first is undeniable with appearances by the cast in their iconic roles. It also brings back the original villain, and in the end, becomes a tribute to Harold Ramis. If the reaction of my child is any indication, this is a Ghostbusters for a new generation.
The story is about Trevor (Finn Wolfhard), Phoebe (Mckenna Grace), and their single mother, Callie (Carrie Coon). It doesn't take long to figure out that Callie is the daughter of Dr. Egon Spengler, making the kids his grandchildren. For mysterious reasons, Egon left Callie and her mother long ago and took residence in Summerville, Oklahoma. Speaking of mysteries, Egon is now dead, and Callie must head to Summerville to take care of Egon's affairs.
This includes his creepy, delipidated house, run-down farm, and massive amounts of debt. While exploring, Phoebe, who inherited her grandpa's intelligence, discovers Egon's lab and his chessboard, where she plays chess with a ghost (guess who). All the while, Trevor, who inherited Egon's awkward good looks, is looking for some fun in his new home.
If you've seen the trailers for Ghostbusters: Afterlife, then you already know that Phoebe uncovers all the Ghostbusters gear that Egon hid. With the help of her new science teacher Grooberson (Paul Rudd) and her new best friend, Podcast (Logan Kim), they discover the real reason Egon was in Summerville. With the help of the ghost, Phoebe is able to reactivate the old traps and proton packs, and now we have a Ghostbusters movie.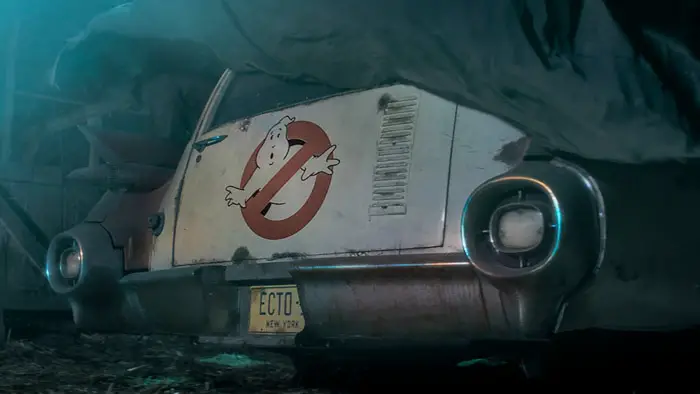 "…Phoebe is able to reactivate the old traps and proton packs, and now we have a Ghostbusters movie."
Do you need to see the original to understand this decades-later sequel? Yes. There were a lot of in-theater explanations going on with me and my kid. Is Ghostbusters: Afterlife as fun as the original? Yes and no. The pleasure of the original was Bill Murray, Dan Akroyd, Harrold Ramis, and Ernie Hudson. The joy of Ghostbusters: Afterlife is the story and the nostalgia throughout. The comedy comes from Rudd as the cool science teacher supposedly living in exile in Oklahoma and Kim, who steals the film. Hollywood needs to make him a star but in a healthy, balanced way.
The original was non-stop excitement and shenanigans. This is a slow burn of a family story. Let's be honest: the story is pretty much a what-happened-to-the-original-Ghostbusters tale. So why are they not together anymore? And what happened to all those ghosts? Ghostbusters: Afterlife is the definition of nostalgia porn. That's not a bad thing, only because the film is so good. Different but good.
Eighty percent of the narrative is all about Trevor, Phoebe, and Podcast. Happily, I was entirely on board with these characters. As they start making some perilous decisions, life-threatening even, connections to the original story from almost forty years ago become stronger and more pronounced.
It's really not a spoiler that the original team comes back, and I think this is where the clash of storytelling styles occurs. Ghostbusters: Afterlife shifts from a serious story to the fast-paced verbal and offbeat comedy we associate with the brand. As much as I loved seeing the old gang back, their appearance changes the entire dynamic, which is not a bad thing. However, I could debate whether it was necessary or a better story could be told without them. That's for you to decide.
Fans of Ghostbusters are going to have nostalgic fun to boot. For fans of Finn Wolfhard and Mckenna Grace, as my child is, you're going to want more Ghostbusters movies with these new characters. For a sequel/reboot, Ghostbusters: Afterlife delivers the fun of the original, albeit in very different ways.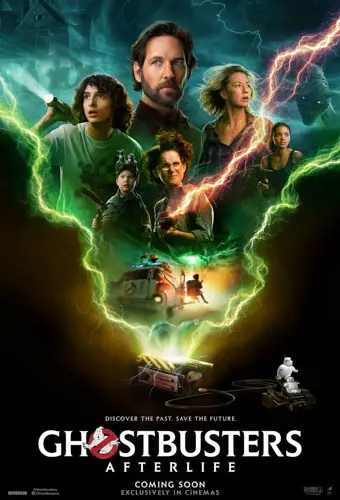 "…nostalgic fun to boot."