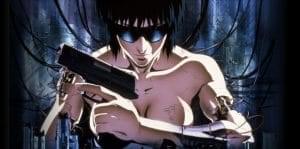 With DreamWorks' Ghost in the Shell (2017), starring Scarlett Johansson, soon approaching, Funimation decided to re-release the original Ghost in the Shell (1995) for a limited-run recently. It was only the smart thing to do, right? After a publicity run wrought by nothing but whitewashing allegations, reported "Asian CGI" tests on its actors, and overall little faith in its director, we start to wonder what's the point in feeling hyped anymore? Well, if this anguish comes from such a place of love, let's get back to the beloved property that started it all then, and that's just what I did. Needless to say, hype restored.
Based on a manga by Masamune Shirow; Mamoru Oshii's Ghost in the Shell (1995) was a game-changer that, along with Akira, helped pave the way for more mature anime in the West. The year is 2029; we follow a cyborg named Major Motoko Kusanagi (Mimi Woods) who leads Section 9, a special-ops team that combats cyber-terrorism all around Japan; in a world where anyone can now plug their conscience into the cyberweb. Aided by her cybernetic partner Batou (Richard Epcar), Motoko chases down an elusive hacker that goes by the alias of the Puppet Master (Tom Wyner). But as they uncover one conspiracy after another, she ponders her own humanity and what exactly is it that constitutes a "soul."
Make no mistake, there is a lot of philosophizing in this film; it's the very bread and butter of the Ghost in the Shell franchise. For every natural quip the characters say, the next thing is guaranteed to be some abstract remark pondering the nature of humanity or something along those lines. That's as much a part of its identity as it is a cultural difference; overlong exposition is practically engrained in anime's DNA, so there's always been that struggle with what to show and what to tell. Unfortunately, the English dub is pretty inconsistent; Mimi Woods gives a performance so flat that some would argue is appropriately "robotic" but I feel is more "wooden" than anything else; Mary Elizabeth McGlynn would go on to have a much more iconic turn as the Major in the later Stand Alone Complex TV series. Everyone else does the best they can, especially William Frederick as Section 9 Chief Aramaki and Christopher Joyce as newbie partner Togusa, but it's all that clunky dialogue they struggle with the most.
But leave it to the visuals to tie all these ideas together and turn it into something greater than the sum of its parts. Ghost in the Shell inhabits a world it can truly call its own, it's just brought that vividly to life; from the rich production design to the inventive CGI tricks, the fact they throw in some well-staged action doesn't hurt either. Composer Kenji Kawai complements the atmosphere perfectly with his otherworldly melodies; nowhere is it clearer than when the chanting of a children's choir anoints the very "birth" of Motoko's cybernetic body in the opening credits. The whole thing's an experience that soaks its teeth in slowly; once the mystery of the Puppet Master is revealed, the plot has your undivided attention, all the way up to the ambivalent ending.
Kenji Kamiyama's later iteration Stand Alone Complex is still my personal favorite, mostly because I felt it had more levity to balance out its self-seriousness. But still, despite my quibbles, there's something I've got to admire when an auteur's work is willing to stare so unflinchingly into your soul, daring you to stare back and gaze into the abyss. A powerhouse marriage of sight and sound; Ghost in the Shell's thought-provoking ambition is only hampered by the occasional navel-gazing and spotty voice acting, but Oshii's vision still resonates over 20 years later for a reason.
Ghost in the Shell (1995) Directed by: Mamoru Oshii. Written by: Kazunori Ito. Starring: Mimi Woods, Richard Epcar, Tom Wyner, William Frederick, Christopher Joyce, Michael Sorich, Ben Isaacson.
8 out of 10