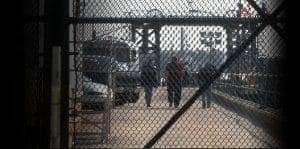 Making a documentary is a little like going on a treasure hunt. You begin by turning over stones and digging up the ground, never quite knowing what you'll find. And sometimes it's a lot more than you bargained for.
That was the case with Jason Charnick, who shot Getting Over,  a documentary about his father Ray Charnick. According to Jason, he can count on both hands the number of times he saw his father, who died at age 46 in 1997. Ray succumbed to AIDS after three decades as an intravenous drug addict.
In this extremely personal documentary, we see Jason finally getting acquainted with his dad years after his death by binge-watching nearly 18 hours of videotaped interviews with Ray. His uncle Arnie, Ray's brother, recorded the interviews just before Ray died. And what Jason learned from watching the tapes blew his mind.
In the videos, Ray, ashen and gaunt from the virus that was wracking his immune system, is nonetheless conversant and candid about his life as a drug addict, prisoner, and absentee father.
"Jason binge-watched 18 hours of interviews with his father…And what he learned blew his mind."
Vivid memories of Jason growing up with his father in the  Bronx were challenged by Ray's explanation of what was really going on. It became apparent that his family created a number of myths to keep darker truths from him. I won't add any spoilers, but what he learned prompted him to question everything he thought he knew about his family.
Some of the myths included falsehoods about his drug-dependent father, his mother Janet, and grandfather Joe. Ray passed away at Bellevue Hospital in New York and Janet died of ovarian cancer nine days later.
One of the most heartbreaking incidents involved an accident Janet had at home. Jason remembers the incident, and in his mind, his father was a "superhero" who rescued his mother. He actually did, but the truth is quite different from what Jason believed all these years.
Obsessed with the tapes, Jason began transcribing the interviews, eventually planning to document his family's story on video.
In addition to the tapes of Ray, both Jason and Arnie appear on camera and talk about the family, visit the old neighborhood and call on a few people who knew Ray. That included former Detroit Tigers pitcher Denny McLain, with whom Ray served prison time. McLain, who was incarcerated for embezzlement, remembered Ray as a prison bookie who was always operating a scam. Apparently, Ray was no different outside of prison than he was as a convict. Arnie concludes that Ray was an inveterate con artist and thief who could not be trusted, even by his family.
"…Ray genuinely cared for Jason, even if he was unable to be much of a parent to him."
Despite his health problems and the physical and mental damage caused by decades of drug abuse, Ray's straightforwardness and charm still come through in the interview clips. It's easy to see how he could gain others' confidence and maneuver his way through the streets and prisons of New York and elsewhere. Unfortunately, one of the most vulnerable people who was conned was his son. But Jason has moved on since then.
Getting Over is more than a profile of a dysfunctional family. We come away from it feeling that Ray genuinely cared for Jason, even if he was unable to be much of a parent to him. The experience of making the documentary seems to have helped Jason heal his emotional wounds. Through it, he not only gained more insight into his family but also himself.
As difficult as life became at points — living a fairly lonely existence and encountering problems establishing a career — things turned out well. He lives in Los Angeles, married and working in the film industry, apparently leading a much more grounded life these days. He reconnected with Arnie after being out of touch for years. In all, this story has a happier ending than what we may have feared.
Getting Over (2017) Directed by Jason Charnick, starring Jason Charnick, Arnie Charnick, Raymond Charnick, Denny McLain, Stuart Birnbaum, Dave Shapiro. Getting Over premiered as part of the 2018 SXSW Documentary Spotlight competition.
8 out of 10