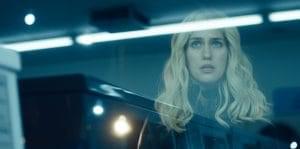 Aaron Katz's Gemini is the writer/director's stripped-down and straightforward neo-noir that takes us on a mysterious journey through the streets of neon-lit Los Angeles. The movie has a lot of thoughts and ambitions about fame and celebrity but Katz's script doesn't always capitalize on his ideas' fullest potential.
The heart of Gemini is the eventual whodunit but first, we meet Jill (Lola Kirke), who is the personal assistant to megastar Heather (Zoe Kravitz). Heather can be a bit demanding and occasionally petty in her requests – especially when she has Jill turn down film projects for her – but there appears to be a mutual appreciation and kinship between Jill and Heather. Heather tries her best to show her appreciation of Jill's loyalty.
"Their bond is tested when Jill and Heather are thrust into the spotlight…"
Their bond is tested when Jill and Heather are thrust into the spotlight for a much different reason. Someone is murdered and Jill becomes a person of interest in the case. She is questioned and followed by the leading detective (Jon Cho), despite her insistence of innocence. The mounting pressure of the case causes Jill to go rogue, dodging the detective and paparazzi, who link her back to Heather. Jill takes it upon herself to find the answers.
Gemini is certainly not lacking in visual flair with Katz and cinematographer Andrew Reed capturing an intriguing seediness of Los Angeles. The film's composition affords us the opportunity to run the streets with Jill, creating an immersive experience in that sense. Gemini is Katz's most accessible film to date (following the 2014 film Land Ho!) and will likely prove to be a large stepping stone in his career.
"…certainly not lacking in visual flair…capturing an intriguing seediness of Los Angeles."
Take away the underground aesthetics of it all and the mystery at the center never really pays off in any big way. A final reveal doesn't necessarily have to shock us or reinvent the wheel but it should offer more than a shrug. The whodunit aspect of Gemini pales in comparison to the world created around it.
Kirke and Kravitz have a presence and chemistry about them but the movie is so wrapped up in style it doesn't give the characters enough of a fleshed-out feeling to emotionally capture us. Gemini feels like an homage to L.A. noir films of the past and is more concerned with being a wink and a nudge rather than its own property. For some, that might be enough.
Gemini (2018) Directed by Aaron Katz. Written by Aaron Katz. Starring Lola Kirke, Zoe Kravitz, and Jon Cho.

Grade: C+