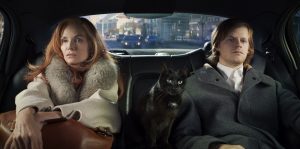 NEW YORK FILM FESTIVAL 2020 REVIEW! I have always loved Michelle Pfeiffer. She always picks the best roles, whether it be as Catwoman in Tim Burton's Batman Returns or "Woman" in Darren Aronofsky's Mother! The trend continues here in Azazel Jacobs' latest film, French Exit. Michelle Pfeiffer stars as the widowed socialite Frances Price, and her performance is captivating.
Frances has lived a life of uninterrupted wealth in Manhattan with her son, Malcolm (Lucas Hedges), with no concern that one day the money will cease to exist. The time comes, and Frances sells her valuables for cash and moves with Malcolm to a Parisian apartment belonging to her friend, Joan (Susan Coyne). This proves difficult for Malcolm, who has recently asked his girlfriend, Susan (Imogen Poots), to marry him. However, his relationship with his mother is the most important thing, so he goes with her to Paris without Susan. Because this movie is quirky by design, the mother-son duo travel to Paris by boat with Frances's cat in tow.
While on the boat, Malcolm meets a psychic named Madeline (Danielle Macdonald) with whom he has a romantic rendezvous. Madeline meets the cat, Small Frank, and immediately has a connection with him. Believe it or not, this is important for you to know. Once Frances and Malcolm arrive in Paris, it's not long before a woman who met Frances years ago, Madame Reynard (Valerie Mahaffey), calls on them to visit her. She quickly becomes a fixture in the Price's Parisian life. Frances lives as high on the hog as she always has and vows that when the money runs out, she will kill herself. Not before Small Frank runs away, and they hire a private investigator, Julius (Isaach De Bankole).
"…Frances sells her valuables for cash and moves with Malcolm to a Parisian apartment…"
French Exit, while dealing with the topic of suicide, still manages to be a perfectly quirky comedy that has only happened once before to my knowledge with Harold & Maude. The two films certainly live in the same neighborhood. While Michelle Pfeiffer's performance is the anchor to the movie, that doesn't mean the other performances aren't fantastic. Valerie Mahaffey is one of my favorite character actresses, and she is delightfully weird as Mme. Reynard.
Imogen Poots is always great, even though she probably only has a maximum of 20 lines in the movie. Lucas Hedges, who I like a lot, has perhaps the subtlest, most morose performance in the film, while still managing to throw in a few hilarious one-liners out of the left field. One of the other elements that prop this film up to the great one that it is would have to be the outstanding script by Patrick DeWitt. The dialogue is one of the best aspects of French Exit.
I would wholeheartedly recommend French Exit on the merits of Michelle Pfeiffer's performance alone, but as I've mentioned, the whole pie tastes good. It's a film guided by quirky melancholia that colors everything and everyone around it.  It's a film about rich people and their problems that doesn't make me roll my eyes with how unrelatable it is. Everyone relates to having financial stress, and everyone has wished they could run away to Paris to avoid their issues. Please be warned that there are references throughout to suicide so if you are sensitive to that sort of thing, be mindful. Otherwise, I think you'll enjoy this very original dark comedy just like I did.
French Exit screened at the 2020 New York Film Festival. 
"…Michelle Pfeiffer's performance is the anchor to the movie..."