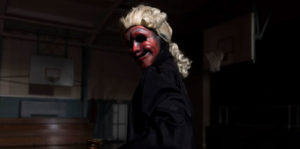 The screenplay for Founders Day, by director Erik Bloomquist and his brother Carson Bloomquist, feels like a reaction to the ever-growing political divisiveness in the United States. In the town of Fairwood, the mayoral election is heating up. Incumbent Blair Gladwell (Amy Hargreaves) and rival Harold Faulkner (Jayce Bartok) are in a dead heat. The pressures of the campaign put a strain on their families as well. Lily (Emilia McCarthy) and her governor mother don't talk much, and the politician often forgets about lunch dates and the like.
Mind you, Harold is not much better, using his wife, Nancy (Arun Storrs), and two kids, Adam (Devin Druid) and Melissa (Olivia Nikkanen), as mere props for the cameras. One night, tensions peak, so Melissa storms off to see her girlfriend, Allison (Naomi Grace). While walking on the bridge, someone violently attacks Melissa, leaving Allison reeling in horror. In the aftermath of the murder, Commissioner Peterson (Catherine Curtin) and Deputy Miller (Adam Weppler) interview everyone and pray the bodies don't pile up. At school, only Mr. Jackson (Michael Douglas William Russ) offers Allison any genuine sympathy. At home, her dad (Andrew Stewart-Jones) tries to comfort her but doesn't know what to do. Why was Melissa the victim and not both she and Allison? Was this a random occurrence, or is the killer planning something much bigger?
Erik Bloomquist has been steadily directing shorts and features for roughly a decade. Founders Day is a testament to everything the filmmaker has learned. The sheer scope of the camera movements, editing, and use of music is grander than anything the man has attempted before. After Melissa is slain, Allison runs into the downtown area where citizens parading for their preferred campaign are yelling back and forth. These two factions can't even agree on who gets to "claim" the traumatized youth as they encircle her. The camera is looking straight down in a medium shot. As the group causes her to panic more and more, the camera pulls back and begins rotating. This is more horrifying than the preceding death via masked killer. And that is precisely the point. Politics gets in the way of everything nowadays, even a tragic and senseless death.
"…Commissioner Peterson and Deputy Miller interview everyone and pray the bodies don't pile up."
To say more would be spoiling all the fun. Suffice to say, the themes aren't subtle but work thanks to strong characterizations and a sense of urgency and fun. Moments of very dark humor land because audiences sympathize with what's happening to Allison, her dad, and (some of) the others. A scene featuring troublemakers recreating the attack in school is both amusing and shocking.
The cast of Founders Day really helps viewers buy into everything. Grace is charming and sweet as the frustrated and grieving teenage lead. Stewart-Jones is commendable and daring as her father. Hargreaves sells the public persona and private one of the politician believably. Bartok is easy to hate and feel bad for at the same time. Russ does such a fantastic Michael Douglas impression that one could easily mistake him for that cinematic legend. Yes, that does mean he steals every scene he's in, no matter how briefly. Weppler is as fun as ever as the overworked deputy.
Founders Day does hit a few cliches associated with the slasher genre. But that doesn't mean the film offers nothing new or enjoyable. In fact, quite the opposite is true. Erik Bloomquist's direction has never been leaner or meaner. The screenplay has a lot it wants to say and does so in a fun, murderous way lined with wicked humor. All the actors understood the assignment and successfully pull off their roles. Bloomquist definitely has many more productions in him, but as of right now, this is one of his best.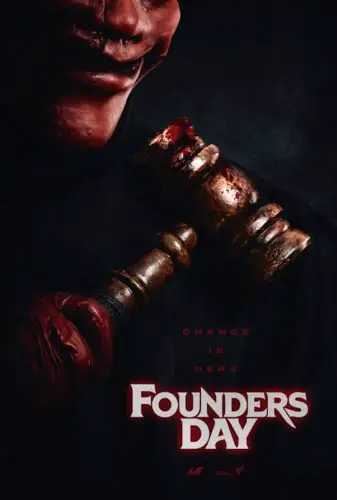 "…lined with wicked humor."