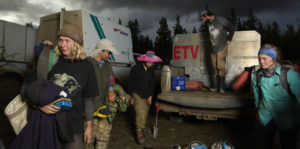 Several years ago, Rita Leistner started planting trees in British Columbia, Canada. For the last two decades, the war photographer has had a dream to properly chronicle the efforts, experiences, and lives of the planters she spends the seasons with. The resulting documentary, Forest For The Trees, took four years to complete and is quite thorough. Does the writer/director's efforts create an entertaining film, or is it about as much fun as watching trees grow?
Along with the filmmaker are a dozen or so others, all with their own reasons for traveling hundreds of miles away from any semblance of civilization. Some want to help protect Earth, as a living being, by replanting what has been cut down. One person, who's been diagnosed with bipolar disorder, finds the work keeps her focused and calm. A few folks plant to forge stronger bonds with their siblings and/or significant others. Of course, relationships are formed by people who meet on-site as well. And in a specific case, a lady believes her skill set is not much beyond retail and likes doing this more.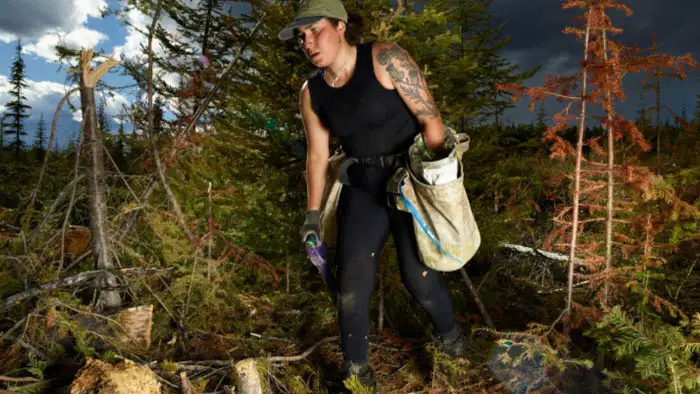 "…chronicle[s] the efforts, experiences, and lives of the planters…"
Forest For The Trees also explores exactly what goes into tree planting. To effectively plant at the pace necessary to make a decent wage, one needs to quickly put the seeds into the ground in a straight line throughout their "piece." Considering the weather, rocks, and the 50+ pounds of equipment a planter needs to haul with them, it is not as easy as it sounds. Leistner effectively describes how it all works via chalk outlines and drawings, sometimes overlaying it atop the real-life footage. This not only gets exposition, for lack of a better term, out of the way in an entertaining manner, but it also adds a bit of levity to what is occasionally a very somber experience.
See, people can get seriously injured, some die, while others are dealing with grief from the outside world. One man breaks down crying when discussing the death of his beloved dog, keeping a memento of the animal around one of his shovels. It can get heavy at times. But Leistner also allows the beauty and wonder of the forest to take hold, most notably during a nighttime photo shoot.
Forest For The Trees is an engaging documentary, tightly focused on an obscure yet vital job. The director keeps things to a tight 91-minutes while still making audiences feel that they get to know everyone involved personally. It's well-paced and balances the dramatic and lighthearted moments well.
To learn more about Forest For The Trees, check out its official site.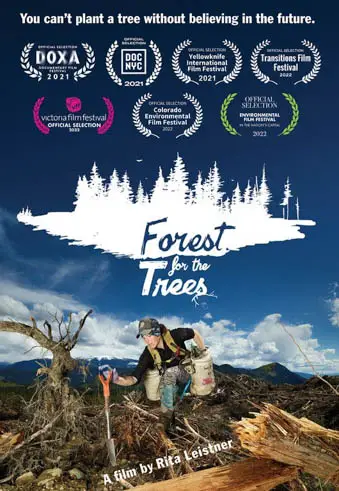 "…an engaging documentary, tightly focused on an obscure yet vital job."