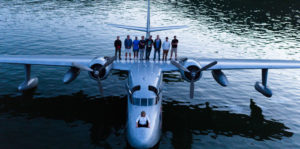 The documentary Flying Boat, from writer-director Dirk Braun, is an engaging look at the history of the single-hull land/sea aircraft styles that were once the mainstay of passenger travel worldwide. With names like Albatross, Clipper, and Catalina, these beautiful, elegant aircraft are a callback to the adventures of Lindbergh, Hemingway, Howard Hughes, and the tragedy of Earhart in her Lockheed Electra. We learn that the flying boat was the most practical aircraft until the advent of long runways primarily built to support military bombers. Those runways led to the development of airliners, and over time, the world of water-based aircraft controls faded. Now, it's a niche for hobbyists and those interested in getting into remote locations with no airfields.
In addition to a look at this romantic and adventurous era of flying, Braun explores a project to restore an Albatross flying boat that had been discarded in an aircraft boneyard in Tucson, AZ, many years ago. The machines were designed and built decades before digital automation became standard for flight controls and navigation, which makes them both simpler to operate and easier to repair.
Also, since the flying boat needed to withstand various conditions, such as flying into unknown weather and potentially heavy seas, they were built heavier and stronger than more contemporary aircraft. Given the age of the planes, it stands to reason that the remaining mechanics who know them well are also elderly. These older specialists have sometimes taught younger people the tips and tricks of designing and reconstructing vintage planes, but there are fewer mechanics with that expertise as time passes. These aircraft will all be returned to the boneyard at some point.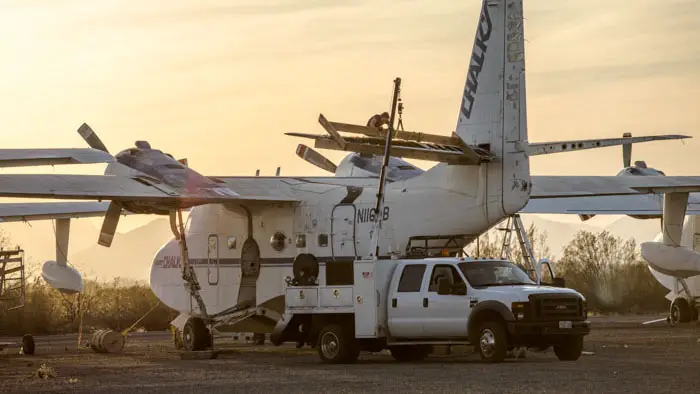 "…follow[s] a handful of enthusiasts who have owned flying boats as private general aviation planes."
Flying Boat chronicles the early days of the aircraft and how they were used for military and civilian purposes. We also follow a handful of enthusiasts who have owned flying boats as private general aviation planes. One couple retrofitted their Grumman Albatross as a flying RV and explored the world. The flashbacks play like an early technicolor feature, with that breathless newsreel-style narration and beautiful scenes of far-away beaches, mountains, and ocean vistas. Braun describes the effort to restore the old planes: "The aircraft featured were restored and brought back to flying condition after being decommissioned and sitting in neglect for decades in the Tucson, AZ desert known as the Boneyard. These aviators share a camaraderie and reflect upon their experiences and aspirations as to why they fly them today. With the capabilities of landing and taking off on open ocean, land, and even snow and ice, these venerable machines inspire dreams and speak to fantasy."
An important caveat is that I am an absolutely fixated aviation fanatic. You may not experience the same obsessive delight, but rest assured that this is a polished, entertaining, and informative experience that anyone can enjoy. An effective documentary entertains and informs, but very few are as much fun as this. Flying Boat summons up an ideal of freedom, adventure, and the perfect synthesis of human and machine in precise harmony with the physics of flight. This style of travel is from a simpler, more elegant age, and the old footage stirs up a romantic ideal of mastery of the sky when the world is your oyster. You can go anywhere that you have enough fuel to reach. If you want to spend some time in the golden age of flight, the film will get you there.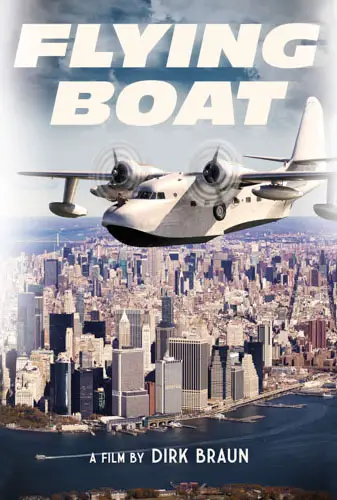 "…very few [documentaries] are as much fun as this."