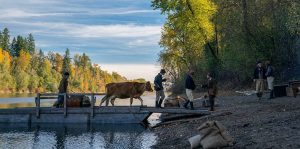 Filmmaker Kelly Reichardt has been at the helm of some of independent film's most honored gems such as Wendy and Lucy (2008) and Certain Women (2016). But the unquestionable quality of First Cow, along with its vivid attention to character, and the simplicity of its odd-ball story, has the potential to launch Reichardt's latest film into becoming a fully realized box office hit.
The movie is set in Oregon during the early 19th century when fur-trapping and gold-hunting were the trades du-jour. It's in this untamed wilderness that American baker Cookie Figowitz (John Magaro) and Chinese runaway King Lu (Orion Lee) build a small business together. They fry up cakes from batter made with love, care, and stolen milk from the territory's first imported cow. 
The film gushes over the Pacific Northwest's natural beauty. Especially in its first half, the film centers on lengthy shots of the rivers, grassy knolls, and forests. Coupled with extended sequences of Cookie and King Lu sweeping, cutting firewood, and general home-making, it took some time for it to move past what felt like a male re-hashed and re-contextualized Jeanne Dielman.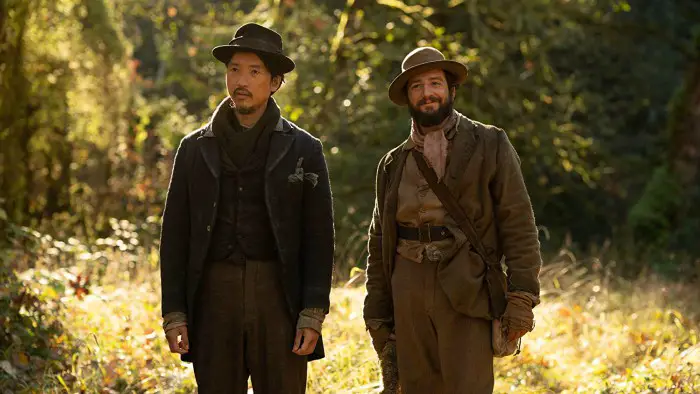 "They fry up cakes from batter made with love, care, and stolen milk from the territory's first imported cow."
When it does, though, it is spectacularly moving, and the movie flourishes in its quiet softness. Shots of a small bird held in large hands, a charming purebred white dog looking kindly to the camera, and a little Native American girl collecting milk in her gorgeous purple dress all build towards this overarching visual sentimentality. Plus, the friendship that Cookie and King Lu develop is one of strength and subtlety.
Reichardt deftly weaves important social and economic contexts into the storyline, such as the impacts of colonialism on the economy and the lives of indigenous people. To varying degrees, kindness and care remain at the center of all of the film's characters' behaviors and discussions. A shot of two indigenous American women fondly looking upon one another is held for a long beat. King Lu longingly ruminates on his aspirations to start a walnut or almond farm. Cookie greets the cow softly each night. 
The daily rumblings of their community are recorded in detail and delight. Alongside all this, there is a certain and undeniable humor that embellishes an already well-crafted film. Reichardt's approach is masterful, and its colorful acoustic soft score by William Tyler accentuates that lightness. Its largely quiet nature builds to an alluringly suspenseful climax, in which the business falls into trouble, and Cookie and Lu's friendship is at risk of falling apart. 
Now a decade after the hey-day of the 'bromance' film (e.g., I Love You, Man or The Hangover), First Cow offers something more pointed and focused. By examining the subtleties of friendship, the film is transfixing and charming.
First Cow screened at the 2020 Berlin International Film Festival.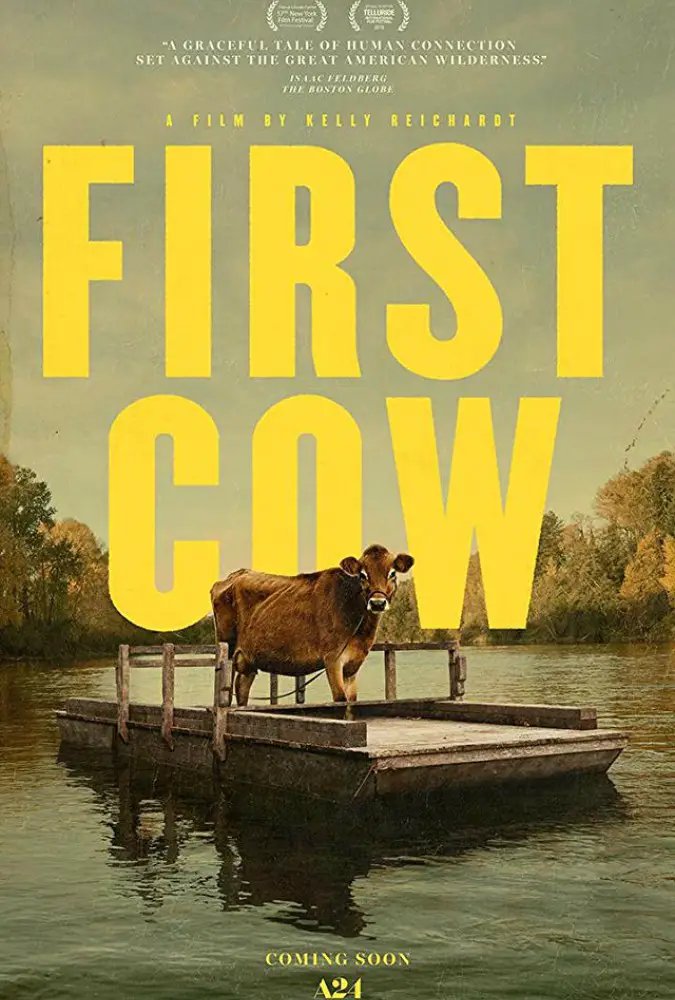 "…Reichardt's approach is masterful..."