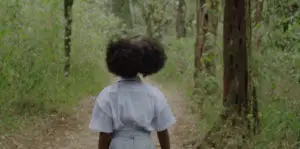 I've said it many times, but if you want a sobering look at American culture and politics, look at it from the lens of another country. Director-writer Gayatri Kumar and co-writer Nelco Lamech give us the Kenyan perspective on American school gun violence in their short film Finding Lulu.
Young school girl Lulu (Angel Atiano) is about to embark on the journey of a lifetime. She is spending time in the United States, where she'll attend an American school. While some of Lulu's peers are jealous of her opportunity, one of her friends is not. He exclaims that kids are being shot in American schools citing Uvalde as the most recent example.
Now Lulu is scared, but her classmates and community are right there to train Lulu about surviving a school shooting. The first thing you do when the shooting starts is call the police… except the police just stood around sanitizing their hands while the bullets flew. Lulu then seeks the guidance of Masai Man (Brian Furaha), who trains her in hand-to-hand combat to take down any member of the NRA who gets in her way. Lulu's training is presented in two montage sequences featuring the songs "No More Running" by Lemmy Jay and "Bang Bang (My Schoolmate Shot Me Down)."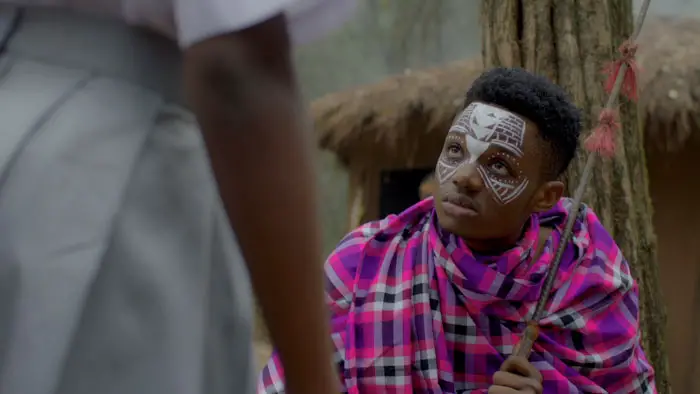 "…classmates and community are right there to train Lulu about surviving a school shooting."
In case you're wondering, Finding Lulu is a serious PSA about school shootings. The Kenyan students honestly can't believe it happens, and this is their way of coming to our rescue. But let's be real; it takes a light look at an issue that has divided Americans for the last three decades. Of course, no one is pro-school shootings, but clearly, gun control has passionate players on both sides, and the filmmakers take a side. Because of this, liking or not liking this short will land on which side of the debate you stand on.
That said, is Finding Lulu good as a film? It's weird to say, but as a film, it takes a light look at a serious subject. It goes out of its way to show solidarity and support for victims and families of school shootings. Kumar and Lamech approach the issue through the eyes of children and outsiders while tackling a controversial subject with the seriousness it deserves. Plus, Angel Atieno is downright adorable as Lulu.
Also, there's a sweetness that comes from a community wanting the best for one of its own. There's also a sadness that's present as the children feel like they're sending one of their own to the slaughter. It also uses humor to emphasize some common sense points about guns and the dereliction of duty the officers had in Uvalde responsible for saving lives.
Finding Lulu is definitely one of those films you'll judge as good or bad, depending on what side of the aisle you find yourself in. It's clear the filmmaker has all the good intentions in making the world and the U.S. a better and safer place.
For screening information, visit the Finding Lulu official website.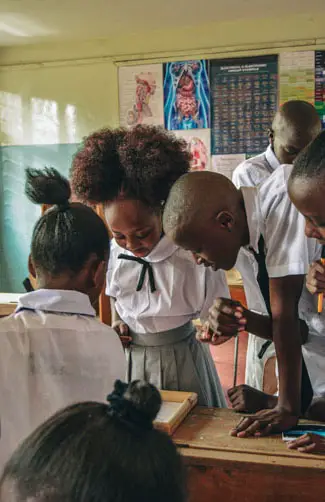 "…Atieno is downright adorable as Lulu."